Roll Marking Machine imprints one or both sides of bar stock.
Press Release Summary: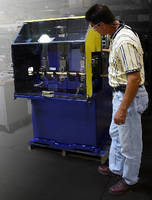 SuperDuty 20-20SD simultaneously imprints continuous identification information on square, hexagonal, or round bar stock, eliminating need for secondary marking operations. Suited for manufacturers with variations in part size and material type, heavy-duty machine can mark bars up to 300 lb and 3-20 ft long without adverse effects to spindle bearings and shafts. Featuring 2 independent marking pressure rams, machine offers setup and changeover times of 2 min.
---
Original Press Release:

New CMT Super Duty Two Sided, Bar Stock Roll Marking Machine Helps Fitting Manufacturer Significantly Reduce Marking Costs



Columbia Marking Tools has designed and built a new standard Model 20-20SD two-sided bar stock roll marking machine for a leading manufacturer of hose and pipe fittings. The unique new heavy-duty machine simultaneously imprints continuous identification information on two sides of square, hexagonal or round bar stock, eliminating the need for additional costly, labor-intensive, secondary marking operations. This is particularly beneficial to fitting manufacturers who typically have tremendous variations in part sizes and material types that can include steel, stainless steel and brass.

Fitting sizes, types, lot numbers, part numbers, company logos or trademarks, and even date codes can be roll marked on one or two sides of the desired bar stock.

The Model 20-20SD, stand-alone, continuous roll marking machine, Fig. 1, is based on the same production-proven design as the Model 40-40SD four-sided bar marker first introduced by Columbia in 1999. Tom Phipps, Columbia Marking Tools, Inc. CEO points out, "This machine fills a void in the bar marking field where the existing two-sided product offering did not fill the customer's needs. The older machines were marketed to be price competitive, so they were cheaply built and took too long, up to 45 minutes, to changeover from size-to-size. Our new 20-20SD can be set up and changed over from one size to another in two minutes. The other major problem was the fact that when the bars existed the older marking machines they were typically warped and look like 'banana' bars. With the inherent 20-20SD heavy-duty machine design, the bars are basically straightened by the support and gear-driven marking rollers as they are fed through the machine, Fig. 2. By providing this level of support, bars up to 300-lbs can be marked without adversely affecting spindle bearings and shafts, eliminating the need for frequent maintenance and replacement. In addition, the self-centering bar in-feed feature insures proper bar alignment so the rollers are correctly centered on the part surface, and a jogging feature allows the operator to remotely set the mark depth and see what the mark will look like before the entire bar in run. A typical 12-ft. bar can be completely marked in approximately 12 seconds."

Phipps adds, "The new SuperDuty 20-20SD roll marking machine meets and exceeds all expectations on every major customer concern with respect to:
o Alignment of the mark
o Centering of the part
o Set-up time
o Consistent depth
o Ease of maintenance
o Self-lubrication
o Safety
o Speed
o Versatility

The result is a bar marking machine that is four times wider, larger and heavier than the nearest competitive machine design."

The basic design of the machine consists of a heavy-duty machine tool base casting, two independent marking pressure rams, adjustable fixture and guide rolls with up to two marking rolls. The marking rolls are driven by a 2 hp (1.49kW) DC electric motor through a variable speed drive that adjusts the bar stock feed rate from 70 to 210 fpm (21-64M/min). Bars from 3 to 20 feet (0.91-6.1M) long are manually fed into the machine. The driven marking rollers continuously mark the bar stock and drive the bars through the machine. The machine is designed with clamshell style guarding for ease of serviceability.

Fig. 3, Brass, stainless steel, alloy and CRS bar stock can be marked equally well in sizes from 3/8 to 2-1/2 inches (9.5 to 63.5 mm). Conveniently located hand wheels at the top of the machine provide easy adjustments on the imprint pressure and bar stock size. The motor control has fuses, a transformer and requires 220/240 VAC power.

Columbia Marking Tools is a leading designer and manufacturer of metal and plastic marking equipment including stamps, roll marking dies, roll marking and impact marking machines, fully programmable pulsed fiber diode laser, peen/scribe marking and UID/2D Square Dot® machines, numbering heads and special marking machines.

Send inquiries to:
Sales and Marketing Department
Columbia Marking Tools,
27430 Luckino
Chesterfield Township, MI 48047
Telephone (800) 469-MARK
FAX (586) 949-8401
Email: TJP@columbiamt.com

More from Laboratory and Research Supplies and Equipment