Roll Handler Kits for Difficult Roll Suspension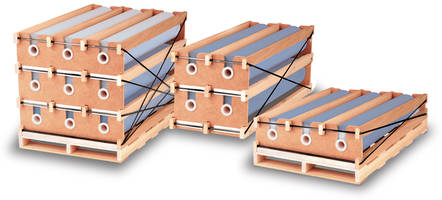 Innovative roll shipping package meets the challenges of shipping rolls long distance.
(Greenville, Wis.) – Badger Plug's patented Roll Handler kits are an easy way to assemble heavy-duty packaging for single and multi-roll shipments. This innovative system uses custom endboards and plastic sleeve plugs along with interlocking timbers to suspend and secure rolls. Strapping then locks system components securely together as a sturdy, unitized package that can withstand the rigors of cross-country or international transit. Kits include endboards and interlocking wood supports. Sleeve plugs along with H-channels and steel clips are typically purchased separately as needed. All components can be made for export compatibility. Custom configurations are available to handle various roll diameters and lengths.
Badger Plug: (920) 757-7300 www.badgerplug.com.
For more information, contact:
Thomas J. Duffy National
Sales Manager
(920) 757-7300
Related