Roll Bending Machine uses 3 radial piston hydraulic motors.
Press Release Summary: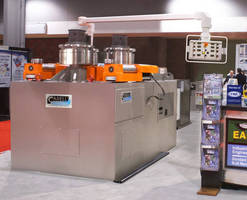 Series 3000, 6 in. capacity Model 310HV4 Universal Angle Roll features horizontal layout and double pinch geometry which allows prebending on both ends of material. Suited for use in machine pit, 6 x 8 x 7 ft unit has articulated overhead pendant control arm with joysticks and hydraulic drive train with infinitely variable speed rotation. Machine has 2 LED digital displays to monitor bending roll positions and 6 LED displays to monitor lateral material guide positions.
---
Original Press Release:

Carell Corporation Introduced Two New Roll Bending Machines at the 2010 Fabtech/AWS Exhibition



The NEW Generation Series 3000, 6" capacity Model 310HV4 Universal Angle Roll was on display. The New Generation 310HV generates higher rotational torque, higher bending capacity and has a larger top shaft to eliminate deflection. The double pinch geometry allows prebending on both ends of the material and tighter bending diameters. Lower rolls are independently adjustable via large hydraulic cylinders with dual upstroke speeds for precision positioning and prebending. Lateral Material Guides are fully hydraulic powered in all three axii (6 directional movements). All Carell Universal Angle Rolls are ideal for rolling standard or special profiles, tube/pipe as well as beams in a variety material types and alloys. Tooling for angle iron leg-in and leg-out, flats, channel, square and rectangular tube and more is standard. The 310HV4 is equipped with an articulated overhead pendant control arm with joy-sticks allowing maximum operator mobility and safety.

Demonstrating that "quality is always found in the details" the 310HV4 boasts 2 LED Digital Displays to monitor bending roll positions and 6 LED Digital Displays to monitor all lateral material guide positions. Each machine is built beginning with a rugged, rigid and reinforced, one piece steel weldment frame that is stress relieved and then CNC machined. All shafts are of high strength alloy then heat treated and ground for durability and precision fit. The 310HV drive train is 100% hydraulic using 3 independent radial piston hydraulic motors and planetary speed reducers direct coupled to each main roll shaft for 100% torque transmission to the work piece. Hydraulic drive trains require near zero maintenance. The hydraulic drive train features infinitely variable speed rotation, 0-23 fpm, using a digitally driven hydraulic proportioning valve and a control panel mounted potentiometer. Hydraulic pumps are driven by a 30HP TEFC-IEC high efficiency electric motor.

The Standard Universal Bending Roll Tooling Set uses telescoping modular components and includes 9 major roll components machined from NiCrMo Alloy steel which is induction hardened for extended life. Nominal roll diameters are 18.75" O.D.

The 310HV4 weighs 20,500lbs and is set up for operation in the horizontal working plane. Machines of this size, 6' x 8' x 7'h, can be placed in a machine pit to afford a lower working height. Effective bending force is designed for profiles and sections a section modulus from 9 to 15 cubic inches.

Carell Corporation also presented the new vertical plate rolling systems in Atlanta. The new generation of tank rolling processes utilizes vertical format plate rolls for rolling sheet goods or advanced design vertical rolls equipped with decoilers to roll tank shells continuously from coil stock. The machine is a 8' x 3/8" capacity Plate Roll built for horizontal and vertical operation that can be used both in-shop or in the field with sheet goods. Vertical rolls and vertical coil systems can both be enhanced by using other automated modules that can be tailored or customized to meet various production parameters to produce tanks more accurately and more economically than previous technology allows. Shells are plasma cut and welded in automatic. Vertical rolls and vertical rolling systems can be built to handle from 4' to 12' plate in thicknesses from 18Ga to over 1".

Carell Vertical Tank Production Systems are configured to suit the needs of both current and future tank projects. They include stations or 'cells' to produce the tanks as well as to install tops, bottoms, legs, refrigeration coils and half pipe jackets. Single units or entire systems can be used on site in the field or designed for in-shop production.

We supply patented automated machinery for production, application and welding of external tank refrigeration circuits and half pipe jackets. These advanced modules allow you to reduce labor costs; reduce number of qualified & non-qualified workers; reduce required shop space; reduce material costs by using coil material; reduce material handing time and costs; increase production rates; increase production efficiency; increase flexibility, handle tank diameters from 6' to 65"+; increase versatility; produce tanks 'In-House' and/or 'on-site'.

See this and all other new hi-tech products at our website www.carellcorp.com.

Carell Corporation / carellcorp.com / sales@carellcorp.com / 251-937-094

Ray Redlich, Art Manager

Carell Corporation Professional Grade Equipment

carellcorp.com

P. O. Box 850, Stapleton, AL 36578

TEL: 251.937.0948

FAX: 251.937.0957

More from Machinery & Machining Tools