Roland DGA to Showcase its Open Architecture MDX Series Mills at SOLIDWORKS World 2018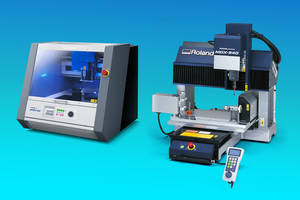 Irvine, Calif., Jan. 31, 2018 – Roland DGA will be demonstrating its latest 3D milling machines and other advanced digital devices at SOLIDWORKS World 2018, February 5-8, in Los Angeles. Held annually, this 3D design and technology event attracts thousands of SOLIDWORKS users, resellers, entrepreneurs, educators and students from all over the world.
At this year's show, Roland DGA will be running its state-of-the-art MODELA MDX series mills with SolidWorks CAM software, demonstrating the open architecture of its devices and how they can be used with most popular software programs, including SOLIDWORKS CAM and CAD. Visitors to the Roland DGA booth can get a firsthand look at the company's state-of-the-art MDX-50 and MDX-540 benchtop mills in action.
Roland's MODELA MDX benchtop milling machines are at the forefront of 3D fabrication and prototype production, offering unsurpassed precision, versatility and ease of use. With their reliable drive systems, advanced user features and rigid, durable construction, MDX devices allow users to cost-effectively mill precise, functional parts from a wide range of materials.
To learn more about MODELA MDX series mills, or the complete Roland DGA product lineup, visit www.rolanddga.com. For more information on SOLIDWORKS World 2018, visit https://events.solidworks.com/solidworks-world-2018.
About Roland DGA
Roland DGA Corporation serves North and South America as the marketing, sales and distribution arm for Roland DG Corporation. Founded in 1981 and listed on the Tokyo Stock Exchange, Roland DG of Hamamatsu, Japan is a worldwide leader in wide-format inkjet printers for the sign, apparel, textile, personalization and vehicle graphics markets; engravers for awards, giftware and ADA signage; photo impact printers for direct part marking; and 3D printers and CNC milling machines for the dental CAD/CAM, rapid prototyping, part manufacturing and medical industries. To learn more about Roland DGA, visit www.rolanddga.com
More from Mechanical Components and Assemblies