Rol Prime Tools and Dies are made of Rolleri's own patented plastic.
Press Release Summary: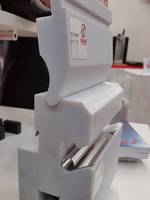 Rol Prime Tools and Dies are suitable to test drawings and bending process. These 3D-printed units offer 1,000 strokes per piece and the plastic material shows only few marks on the parts. Functional replicas are suitable for short production applications.
---
Original Press Release:
Product​ ​Introduction​ ​-​ ​Rol​ ​Prime
Rolleri is happy to announce a new evolution in the tool and die sampling and testing process. Rol Prime by Rolleri gives you the flexibility to produce sample parts in a way that is cheaper, faster, and cleaner than ever before. Rol Prime tools and dies are 3D-printed, full-size, functional replicas of the tools and dies you will use to bend parts.
Rol Prime tools and dies can be used to test your drawings and bending process for a fraction of the cost of the real tools and dies, giving you the flexibility to make changes before more expensive tools are purchased. With Rol Prime 3D printed tools on your press brake well before you invest in metal tools, you are able to create real parts to show your customers before they would have thought possible, all while saving you time and money.
These 3D-printed replicas are made with Rolleri's own patented plastic, allowing for as many as 1,000 strokes per Rol Prime piece. In addition, this plastic leads to fewer marks on your parts, so your parts will look great.
Rol Prime tools run perfectly on short productions, so you can test your drawing and bend sequence with Rol Prime tools, make any adjustments and test more Rol Prime tools if necessary, then order the long-term tools to get the job done in the long term.
Be sure to contact Rolleri for more information and to learn how Rol Prime can become an important, money and time saving part of your production process.
Rolleri USA
+1.440.835.2580
Related