RoHS-Compliant, USB-Ready PAC offers open communications.
Press Release Summary: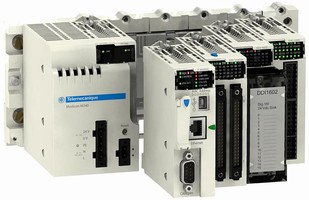 In addition to real-time logic solving, Telemecanique® Modicon® M340(TM) Programmable Automation Controller (PAC) offers single development platform that offers communication, motion, database, and manipulation capabilities in multiple programming environments. It enables execution of Boolean processing and floating decimal calculations and can manage applications with up to 70K instructions. Unit accepts 4-12 modules, with max density of 64 channels/module.
---
Original Press Release:

Schneider Electric Introduces New Modicon Programmable Automation Controller



SCHNEIDER ELECTRIC EXPANDS THE MODICON® LINE OF PROGRAMMABLE CONTROLLERS WITH THE ADDITION OF MODICON M340(TM)

PALATINE, Ill. - July 10, 2007 - Schneider Electric today announced the release of the Telemecanique® brand Modicon® M340(TM) programmable automation controller (PAC), the newest addition to the Modicon line of PACs. The Modicon line began in 1968 with the introduction of the first-ever programmable logic controller (PLC), capable of real-time logic solving. It continues today with the Modicon M340 PAC, a platform that not only offers real-time logic solving, but also communication, motion, and database and manipulation capabilities in multiple programming environments. The Modicon M340 PAC joins the Modicon Premium(TM) and the Modicon Quantum(TM), Schneider Electric's other programmable controllers programmed with Unity(TM) Pro, the latest IEC 61131-3 development software. These products comprise a full range of programmable controllers designed to affordably and effectively handle the requirements of very simple machine tasks to the most complex machine solutions.

"The original Modicon PLC sparked an evolution in industrial performance that has been fostered by Schneider Electric's ongoing commitment to developing innovative products that are safe, reliable and easy to use," said Richard Hutton, senior automation marketing specialist, Schneider Electric North American Operating Division. "The Modicon M340 builds upon that tradition and provides even greater efficiency and performance with a single development platform that uses common tagging and a single database for development tasks across a range of disciplines."

The Modicon family of PACs improves machine performance by providing exceptional control and reliability, in addition to simplifying setup and implementation by standardizing on a single programming tool. The Modicon M340 PAC's hardware and software is tightly integrated and, like the more advanced Modicon PACs, it can be configured using Schneider Electric's Unity software suite. The Unity suite offers a choice of five IEC languages, graphic programming and advanced online help. In addition, users can reuse developments among these PAC platforms to obtain maximum cost efficiencies and quality.

The high-performance Modicon M340 PAC also enables fast execution of both Boolean processing and floating decimal calculations. It has 4MB of internal memory (upgradable to 16MB) and 256KB data and can manage applications with up to 70K instructions.

"The Modicon M340 PAC also offers unparalleled openness and connectivity," Hutton said. "It integrates a high-speed USB port and offers a choice of up to two additional communication ports - from CANopen, Ethernet or Modbus® - unlike any other automation controller on the market. The Modicon M340 PAC's modular architecture also complements industry application requirements."

This increased communications openness ensures users can access their machines in complete security via modem or standard asymmetric digital subscriber line (ADSL) serial link from anywhere. In addition, the USB port gives users a simple and high-performance connection with the programming PC. Users also can connect to Ethernet, either by point to point or via local or remote networks. Depending on the technology chosen, users can program online, transfer programs, access data files and manage remote operation and diagnostics thanks to open TCP standards and the embedded Web server functions.

The Modicon M340 PAC further simplifies use by automatically backing up data and applications in its internal Flash memory and SD-based memory card, respectively. The "plug and load" technology of the memory card enables easy updating of applications or transfer to other machines with no disruption of operation. In "power on" mode, a new program is automatically transferred in the internal memory, and the same card can be used to load all installed PACs on identical machines. In addition, data files (recipes, traceability) or maintenance files can be stored and easily accessed from a PC or through a simple "drag-and-drop" via a File Transfer Protocol (FTP) site. No battery is required, helping users avoid the associated maintenance.

The PAC easily integrates into the tightest spaces thanks to its compact dimensions. It's specially designed for manufacturers of compact, modular and complex machines, and is particularly suitable for applications in material handling, conveying and secondary packaging, as well as woodworking and specialty machines. The Modicon M340 PAC also is flexible, accepting from four to 12 modules with maximum density of 64 channels per module. Each module is "hot swap" designed and automatically reconfigured by the CPU at replacement. In addition, the PAC offers a wide power supply choice with either AC or DC current with 24 VDC/0.9A sensor supply output.

The rugged Modicon M340 PAC adapts to severe industrial environments, greatly exceeding the limits imposed by the International Electrotechnical Commission (IEC) standard. In addition, the PAC conforms to the restriction of hazardous substances (RoHS) European Directive on environment protection.

For more information on Telemecanique automation and control products from Schneider Electric, call 1-800-392-8781 or visit www.us.telemecanique.com.

Headquartered in Palatine, Ill., the North American Operating Division of Schneider Electric had sales of $3.7 billion (U.S.) in 2006. The North American Operating Division is one of four operating divisions of Schneider Electric, headquartered in Paris, France, and markets the Square D®, Telemecanique® and Merlin Gerin® brand products to customers in the United States, Canada and Mexico. In the United States, Schneider Electric is best known by its flagship Square D brand, with Telemecanique becoming increasingly known in the industrial control and automation markets and supported by many Square D distributors. For more than 100 years, Square D has been a market-leading brand of electrical distribution and industrial control products, systems and services. Schneider Electric is a global electrical industry leader with 2006 sales of approximately $17.2 billion (U.S.). Visit Schneider Electric on the Internet at:

Corporate - www.us.schneider-electric.com
Telemecanique Products - www.us.telemecanique.com
Square D Products - us.squared.com
Merlin Gerin Products - us.merlingerin.com

Please send all reader inquiries to:
Square D Literature Fulfillment Center
W6545 Quality Drive
Greenville, WI 54942
Attention: Christine Lautenschlager
800-392-8781
or e-mail to: SquareD@banta.com

Schneider Electric
North American Operating Division
1415 South Roselle Road
Palatine, IL
60067-7399
Tel. (1) 847-397-2600
Fax (1) 847-925-7271
http://www.us.schneider-electric.com

Contact:
Jen Novotny
Bader Rutter & Associates
Phone: (262) 938-5540
jnovotny@bader-rutter.com www.us.telemecanique.com