Rohde & Schwarz Supports Egyptian National Media Authority in Major DVB-T2 Transmission Network Expansion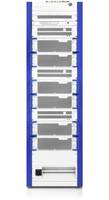 R&S®TMU9evo DVB-T2 transmitters form the backbone of an ambitious Egyptian upgrade project serving many millions of consumers in Africa's third largest country.
Munich, January 26, 2021 — Rohde & Schwarz, a global leader in TV & radio terrestrial transmission has announced a strategic contract win with the Egyptian National Media Authority (ENMA). In what represents the second phase of a major DVB-T2 network expansion in one of Africa's largest and most populous countries, Rohde & Schwarz will equip multiple transmission sites with its state-of-art R&S®TMU9evo DVB-T2 transmitters.
Working with local partner, Cairo-based Integrated Communication Systems, Rohde & Schwarz is supplying, installing, and commissioning a comprehensive multi-vendor technology solution across seven sites throughout Egypt. Operating in Doherty mode, the TMU9evo transmitters achieve up to 40% energy efficiency and offer market-leading on-air time. At three sites, the transmitters will be fitted with 1Kw dual exciters and at the remaining four the transmitters are fitted with 500W exciters in 1+1 configuration. Also, Rohde & Schwarz will supply R&S®ETL DTV Analysers and R&S®PRISMON Multiviewer systems to monitor and analyse video signals throughout the distribution workflow.
Other equipment includes Spinner Bandpass Filter & Dummy Load, Com-Tech Indoor Coaxial Equipment such as Ulink Patch panels, Power Meters and Rigid Lines; Program Input Equipment from various suppliers, Moller Preussler, Automatic Voltage Regulator & Low Power Distribution Boards, Jampro DTV Antenna Systems and RFS Main Feeder & Dehydrator equipment.
"ENMA selected Rohde & Schwarz for this demanding project after careful evaluation of several tech vendors' proposals. The success of this project is critical for us and we have been satisfied with the reliability of R&S systems delivered as part of the first phase as well as the high quality of the services they have provided us," commented Engineer Maysa Kamel, Chairman of Broadcasting Engineering Sector at ENMA.
"A key factor influencing our decision is the advanced design of the TMU9evo transmitter. It provides high energy efficiency combined with advanced wideband amplifier architecture and superior thermal design for very long-term stable operation at 45°C. The transmitter is proven to offer best in class signal quality, more than – 37dB MER and this remains constant over many year's operation. The transmitter employs market leading adaptive pre-correction technology within a system architecture that is focused on long product lifetime. It utilizes high quality RF components and features an innovative thermal design, which avoids hot spots and thermal stress," commented Engineer Ahmed Abdelmohsen, Head of Transmission Projects Department at ENMA.
"At Rohde & Schwarz, we are tremendously proud of our relationship with ENMA, which we regard as one of the most progressive and pioneering broadcast service providers in Africa, "commented Manfred Reitmeier, Vice President Transmitters and Amplifier Systems at Rohde & Schwarz. "This second contract shall build on the success of our co-operation in the first phase. It is a clear message that the technology we delivered in phase 1 has met ENMA's expectations but we will not rest. Rohde & Schwarz is committed to delivering DVB-T2 transmitter systems that will benefit our customer both technically and financially."
Press contacts:
PR agency: Scribe PR, Bob Charlton (phone: +44 20 7084 6335; email: bob@scribe-pr.com)
Europe (headquarters): Ciarán Doran (phone: +49 89 4129 16533; email: Ciaran.Doran.ext@rohde-schwarz.com)
North America: Maryam Larki Bavi (phone: +1 818-846-3600 x1411; email: Maryam.LarkiBavi@rsa.rohde-schwarz.com)
Asia Pacific: Wen Shi Tong (phone: +65 6 307-0029; email: press.apac@rohde-schwarz.com)
Contacts for readers:
Customer Support Europe, Africa, Middle East: +49 89 4129 12345, customersupport@rohde-schwarz.com
Customer Support North America: +1 888 TEST RSA (+1 888 837 87 72), customer.support@rsa.rohde-schwarz.com
Customer Support Latin America: +1 410 910 79 88, customersupport.la@rohde-schwarz.com
Customer Support Asia Pacific: +65 65 13 04 88, customersupport.asia@rohde-schwarz.com
Customer Support China: +86 800 810 8228 or +86 400 650 5896, customersupport.china@rohde-schwarz.com
Rohde & Schwarz
Rohde & Schwarz is a leading supplier of solutions in the fields of test and measurement, broadcast and media, aerospace | defense | security and networks and cybersecurity. The technology group's innovative communications, information and security products help industry and government customers ensure a safer and connected world. On June 30, 2019, Rohde & Schwarz had 12,100 employees. The independent group achieved a net revenue of EUR 2.14 billion in the 2018/2019 fiscal year (July to June). The company is headquartered in Munich, Germany, and has subsidiaries in more than 70 countries, with regional hubs in Asia and America.
Rohde & Schwarz Broadcast & Media
Rohde & Schwarz has been an innovator in broadcast and media for over 70 years. The Rohde & Schwarz product portfolio covers the entire signal processing chain for digital video and audio content – from ingest and playout to encoding and multiplexing, from contribution to satellite and IP networks to terrestrial transmission. It includes solutions for monitoring in the studio, as well as for monitoring streaming and broadcast services and entire broadcast networks. The T&M expert also offers a diverse range of instruments for testing end user equipment and infrastructure components in development, production, and quality assurance. Rohde & Schwarz invests in an IP and software-based future built with the blend of innovation, experience, and stability that the company can offer.
More from Electrical Equipment & Systems