Rohde & Schwarz Supplies VHF Transmitters to Germany's Second National DAB+ Multiplex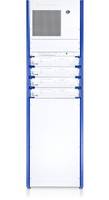 R&S®TMV9 & THV9 VHF transmitters provide the backbone of Germany's second DAB+ multiplex. Supplying 71 transmitters, Rohde & Schwarz is providing all of the transmission infrastructure of Germany's enhanced DAB+ national network.
Munich, November 19, 2020 — Rohde & Schwarz, a global leader in TV & radio terrestrial transmission, has delivered 71 R&S®TMV9 and R&S®THV9 VHF transmitters to Media Broadcast, the operator of Germany's second national DAB+ network. Going live on October 5th, the transmitters provide all of the transmission infrastructure for Germany's second national DAB+ multiplex.
Media Broadcast operates the network on behalf of platform owner, Antenne Deutschland, and is responsible for the provisioning, installation and operation of the transmitters.
The new DAB+ multiplex comprises 71 radio transmitter stations, located within the main metropolitan areas, and also along Germany's autobahn network. The second multiplex enables a further 16 private national radio channels to broadcast over the network, meaning that Germany's national DAB+ networks comprises some 29 digital radio channels in total.
Going live last month, the new DAB+ network reaches 83 percent of Germany's population – an audience of over 67 million people. However, the market trends look progressive since digital radio has become an indispensable part of the German media landscape. Last year, the number of DAB+ receivers in Germany increased by more than 33 percent relative to the previous 12 months and the use of DAB+ as the distribution means for radio broadcasts increased by 26 percent.
Furthermore, the political landscape for DAB+ looks bright: from the end of 2020, all new vehicles manufactured within the EU shall be equipped with radio systems designed to receive digital radio programs.
After careful evaluation of several manufacturers, Media Broadcast selected Rohde & Schwarz. The key issues in selecting Rohde & Schwarz were the advanced technical capabilities of the transmitters combined with sophisticated manufacturing and project management capabilities that Rohde & Schwarz possesses. With energy efficiencies approaching 50 percent, R&S transmitters minimize operational energy costs. In addition, the THV9 and TMV9 are amongst the most rugged and reliable transmitters on the market with excellent operational track records.
At Rohde & Schwarz's Teisnach manufacturing facility, the production and delivery of the 71 R&S transmitters of the power classes 750 W to 5200 W was completed by the end of July, allowing sufficient time for installation and commissioning of the transmitters.
"The deployed THV9 and TMV9 transmitters are technically field-proven products with the lowest failure rates on the market. Our transmitter series already equip the first national DAB+ multiplex and have been running without any problems for many years," explained Manfred Reitmeier, Vice President Transmitters and Amplifier Systems at Rohde & Schwarz. "Also, the fact that we needed to manufacture and deliver more than 70 DAB+ transmitters in a very short time period was a tailor-made requirement for our team."
"With our advanced manufacturing and quality assurance protocols, we could ensure the timely rollout of this project. So, for the second national DAB+ multiplex, it was a straightforward decision of both service providers to choose R&S and the TMV9 and THV9. Over many years, we have developed a great relationship with this customer, based on trust, and we value this project most highly", concluded Manfred Reitmeier.
Press contacts:
PR agency: Scribe PR, Bob Charlton (phone: +44 20 7084 6335; email: bob@scribe-pr.com)
Europe (headquarters): Ciarán Doran (phone: +49 89 4129 16533; email: Ciaran.Doran.ext@rohde-schwarz.com)
North America: Maryam Larki Bavi (phone: +1 818-846-3600 x1411; email: Maryam.LarkiBavi@rsa.rohde-schwarz.com)
Asia Pacific: Wen Shi Tong (phone: +65 6 307-0029; email: press.apac@rohde-schwarz.com)
Contacts for readers:
Customer Support Europe, Africa, Middle East: +49 89 4129 12345 customersupport@rohde-schwarz.com
Customer Support North America: +1 888 TEST RSA (+1 888 837 87 72) customer.support@rsa.rohde-schwarz.com
Customer Support Latin America: +1 410 910 79 88 customersupport.la@rohde-schwarz.com
Customer Support Asia Pacific: +65 65 13 04 88 customersupport.asia@rohde-schwarz.com
Customer Support China: +86 800 810 8228 or +86 400 650 5896 customersupport.china@rohde-schwarz.com
Rohde & Schwarz
Rohde & Schwarz is a leading supplier of solutions in the fields of test and measurement, broadcast and media, aerospace | defense | security and networks and cybersecurity. The technology group's innovative communications, information and security products help industry and government customers ensure a safer and connected world. On June 30, 2019, Rohde & Schwarz had 12,100 employees. The independent group achieved a net revenue of EUR 2.14 billion in the 2018/2019 fiscal year (July to June). The company is headquartered in Munich, Germany, and has subsidiaries in more than 70 countries, with regional hubs in Asia and America.
Rohde & Schwarz Broadcast & Media
Rohde & Schwarz has been an innovator in broadcast and media for over 70 years. The Rohde & Schwarz product portfolio covers the entire signal processing chain for digital video and audio content – from ingest and playout to encoding and multiplexing, from contribution to satellite and IP networks to terrestrial transmission. It includes solutions for monitoring in the studio, as well as for monitoring streaming and broadcast services and entire broadcast networks. The T&M expert also offers a diverse range of instruments for testing end user equipment and infrastructure components in development, production and quality assurance. Rohde & Schwarz invests in an IP and software based future built with the blend of innovation, experience and stability that the company can offer.
All press releases, including photos for downloading, are available on the Internet at http://www.press.rohde-schwarz.com.
More from Cleaning Products & Equipment