Rohde & Schwarz Maintains Close Ties with Qualcomm for the Development of 5G Network Test Solutions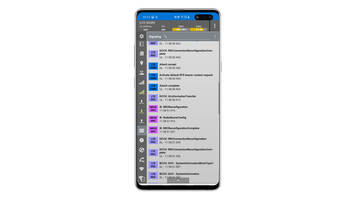 Rohde & Schwarz has entered an agreement with Qualcomm Technologies, Inc., a wholly owned subsidiary of Qualcomm Incorporated, for the use of their Interface Control Document for 5G as an authorized licensee to develop test equipment based on Qualcomm® Snapdragon™ X55 5G Modem-RF System. 
Rohde & Schwarz, a premium supplier of test and measurement solutions to the wireless industry, has licensed Qualcomm Technologies' Interface Control Document for 5G, that describes the unique messages that come from the Snapdragon X55 5G Modem-RF System. For Rohde & Schwarz, access to these messages is critical to the development of test solutions such as QualiPoc, for example, that captures and analyses these messages for determining network quality and customer quality of experience.
Any type of interaction between a mobile device and the mobile network requires hundreds, if not thousands, of unique messages that are sent back-and-forth that verify all aspects of a mobile phone call or data session. The quantity and complexity of messaging continues to increase as more features and capabilities are added. This trend will no doubt continue as the industry begins to migrate from 4G/LTE to 5G.
Hans-Peter Bobst, CEO of Rohde & Schwarz SwissQual AG: "Having early and complete access to the Interface Control Document allows us to develop more comprehensive test solutions faster, providing our customers with what they need when they need it. Our customers can rest assured that any measurements they make with our test equipment is technically accurate and legally grounded."
To learn more about test solutions for 5G networks from Rohde & Schwarz, visit: https://www.rohde-schwarz.com/_234340.html 
All press releases, including photos for downloading, are available on the Internet at http://www.press.rohde-schwarz.com.
Press contacts:
North America: Keith Cobler, Phone: +1 214 663 6394, E-mail: keith.cobler@rsa.rohde-schwarz.com
Europe (headquarters): Christian Mokry, Phone: +49 89 4129 13052, E-mail: press@rohde-schwarz.com
Asia Pacific: Wen Shi Tong, Phone: +65 6 307-0029, E-mail: WenShi.Tong@rohde-schwarz.com
Contacts for readers:
Customer Support Europe, Africa, Middle East: +49 89 4129 12345 customersupport@rohde-schwarz.com
Customer Support North America: +1 888 TEST RSA (+1 888 837 87 72) customer.support@rsa.rohdeschwarz.com
Customer Support Latin America: +1 410 910 79 88 customersupport.la@rohde-schwarz.com
Customer Support Asia Pacific: +65 65 13 04 88 customersupport.asia@rohde-schwarz.com
Customer Support China: +86 800 810 8228 or +86 400 650 5896 customersupport.china@rohdeschwarz.com
More from Communication Systems & Equipment