Rohde & Schwarz demonstrate Test Capability of 3GPP C-V2X Technology in Preparation for GCF Certification Toward Commercialization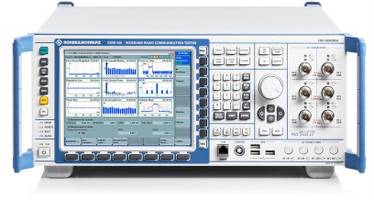 At Mobile World Congress 2018 in Barcelona, Rohde & Schwarz will showcase their CMW500 wideband radio communication tester and a pre-commercial Qualcomm® 9150 C-V2X chipset solution, that implements 3rd Generation Partnership Project (3GPP) Release 14 cellular vehicle-to-everything (C-V2X) direct communications technology. Rohde & Schwarz, working with companies including Qualcomm Technologies, aim to support an official global certification scheme based on 3GPP standardized conformance tests selected by the Global Certification Forum (GCF) in preparation of commercialization.
Munich, February 27, 2018 - Rohde & Schwarz, a premium supplier of test and measurement solutions to the wireless industry announced today they have successfully implemented a number of cellular vehicle-to-everything (C-V2X) direct communications signaling tests to verify end-to-end communications, performance and conformity to standards. . Working with Qualcomm Technologies, Inc., a subsidiary of Qualcomm Incorporated, and with the Qualcomm® 9150 C-V2X chipset solution, Rohde & Schwarz will demonstrate testing and full end-to-end communications between simulated vehicles in the context of a road-side emergency situation.
The R&S CMW-KU514 C-V2X verification scenarios option on the R&S CMW500 is used to demonstrate simulation of an ITS message transfer from one vehicle to another during emergency braking.
C-V2X allows vehicles to communicate directly with each other (V2V), with pedestrians (V2P) and with roadway infrastructures (V2I) without a mobile cellular subscription or network assistance while operating in bands 46D and 47 for the 5.8 GHz/5.9 GHz harmonized ITS spectrum.
"In the automotive segment, we see a lot of excitement today around C-V2X as a technology that will drive the development of safety solutions in the automotive industry based on mobile communications standardization work done by organizations such as 3GPP and GCF," said Anton Messmer, Vice President Mobile Radio Testers at Rohde & Schwarz in Munich. "Thanks to our excellent cooperation with Qualcomm Technologies, Rohde & Schwarz will not only help in securing the global certification necessary to support automaker deployments, but also aid in accelerating the availability of multi-vendor interoperability."
At MWC 2018, Rohde & Schwarz showcases testing full end-to-end communication between simulated vehicles based on the R&S CMW500 with R&S CMW-KU514 C-V2X and a Qualcomm 9150 C-V2X chipset in hall 6, booth 6C40, from 26 February to 1 March 2018. For more information about Rohde & Schwarz at MWC 2018, go to www.rohde-schwarz.com/mwc.
Rohde & Schwarz
The Rohde & Schwarz technology group develops, produces and markets innovative information and communications technology products for professional users. Rohde & Schwarz focuses on test and measurement, broadcast and media, cybersecurity, secure communications and monitoring and network testing, areas that address many different industry and government-sector market segments. Founded more than 80 years ago, the independent company has an extensive sales and service network in more than 70 countries. On June 30, 2017, Rohde & Schwarz had approximately 10,500 employees. The group achieved a net revenue of approximately EUR 1.9 billion in the 2016/2017 fiscal year (July to June). The company is headquartered in Munich, Germany, and also has regional hubs in Asia and the USA.
More from Electronic Components & Devices