Rohde & Schwarz and Huawei 4.5G Modem demonstrate 1.6 Gbps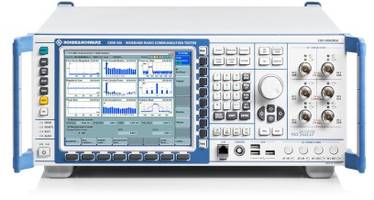 Rohde & Schwarz has successfully tested and verified LTE-A-Pro download speed at 1.6 Gbps with the newly released 4.5G Modem Balong 765 from Huawei.
Shenzhen, China, February 27, 2018 - Rohde & Schwarz and Huawei Technologies Co., Ltd., today announced the successful demonstration of 1.6 Gbps LTE-A-Pro downlink throughput, using Huawei Balong 765, the industry's first LTE modem to support category 19 at 1.6 Gbps technology.
In the Rohde & Schwarz and Huawei lab, the 1.6 Gbps download speeds were achieved by using a combination of up to four downlink FDD carriers on which carriers can be received separately on four transmission layers (4x4 MIMO, or multiple in, multiple out) and 256 QAM data modulation. 3GPP 4x4 MIMO mandates four receive antennas on the device side, so four RF connections are needed. These are provided by the 4x4 MIMO functionality of the R&S CMW500 wideband radio communication tester.
"Both Huawei and Rohde & Schwarz are industry leaders in promoting the evolution of LTE-A-Pro technology. We are delighted to be working together to achieve this new milestone," says Anton Messmer, Vice President Mobile Radio Testers at Rohde & Schwarz. "The R&S CMW500 is the ultimate test platform for simulating and verifying the combination of signaling and end-to-end data transmission on the involved carriers, regardless of the 3GPP defined band configuration to be tested. For testing LTE in unlicensed spectrum configurations, the downlink carriers could even be set up in the 5GHz unlicensed spectrum. The R&S CMW500 in its R&S CMWflexx configuration is the first test platform that offers an eCA solution for up to 8CC downlink, for protocol, RF and data performance verifications."
"We are very pleased that Huawei has completed the test with Rohde & Schwarz and witnessed together the performance breakthrough in 4.5 G industry," said Ai Wei, Fellow at Huawei. "The Balong 765 has become the first modem to support LTE Cat. 19 downlink and Cat. 13 uplink connectivity, enabling mobile broadband speeds of up to 1.6 Gbps. With advanced technologies of 8x8 MIMO, 5CC CA, 256QAM, the Balong 765 will help operators boost network capacity and will take consumers to higher-speed and highly immersive experience. Moreover, Balong 765 can help operators to provide reliable connectivity and roll out Internet of Things solutions."
At Mobile World Congress 2018 in Barcelona from February 26 to March 1, 2018, Rohde & Schwarz will showcase in hall 6, booth 6C40 a solution with eight aggregated downlink carriers. So the R&S CMW is the first test platform on the market that supports enhanced carrier aggregation (eCA), since it supports more than five aggregated downlink channels.
About Huawei
Huawei is a leading global information and communications technology (ICT) solutions provider. Our aim is to enrich life and improve efficiency through a better connected world, acting as a responsible corporate citizen, innovative enabler for the information society, and collaborative contributor to the industry. Driven by customer-centric innovation and open partnerships, Huawei has established an end-to-end ICT solutions portfolio that gives customers competitive advantages in telecom and enterprise networks, devices and cloud computing. Huawei's 180,000 employees worldwide are committed to creating maximum value for telecom operators, enterprises and consumers. Our innovative ICT solutions, products and services are used in more than 170 countries and regions, serving over one-third of the world's population. Founded in 1987, Huawei is a private company fully owned by its employees.
For more information, please visit Huawei online at www.huawei.com
Rohde & Schwarz
The Rohde & Schwarz technology group develops, produces and markets innovative test and measurement, information and communications technology products for professional users. Rohde & Schwarz focuses on test and measurement, broadcast and media, cybersecurity, secure communications and monitoring and network testing, areas that address many different industry and government-sector market segments. Founded more than 80 years ago, the independent company has an extensive sales and service network in more than 70 countries. On June 30, 2017, Rohde & Schwarz had approximately 10,500 employees. The group achieved a net revenue of approximately EUR 1.9 billion in the 2016/2017 fiscal year (July to June). The company is headquartered in Munich, Germany, and also has regional hubs in Asia and the USA.
Related