Rohde & Schwarz and CommSolid Present World's First Test Solution for 3GPP Release 14 Location Services for NB-IoT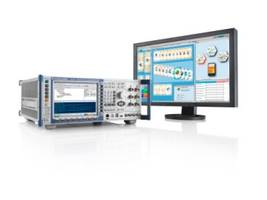 Rohde & Schwarz and CommSolid have successfully completed the verification of 3GPP Release 14 location services (LCS), which is one of the new positioning technologies for NarrowBand-IoT (NB-IoT). The Cat-NB2 verification was performed with CommSolid's NB-IoT modem solution against the R&S CMW500 mobile communication tester. The R&S Location Based Services (LBS) solution based on R&S CMWcards GUI, a subset of TS-LBS, allows the verification of chipsets and mobile devices for mobile manufacturers, chipset manufacturers, test houses and network operators with the target to get permission to operate them in a particular network.
Munich and Dresden (Germany), February 26, 2018 - The successful NB-IoT location services verification of the CommSolid NB-IoT modem using the Rohde & Schwarz test solution marks an important milestone in IoT positioning and navigation. The R&S CMW500 mobile communication tester equipped with the R&S CMWcards LBS solution and the CommSolid NB-IoT modem form the first test platform to offer verification of Cat-NB2 location services.
R&S CMWcards supports location based services testing of 3GPP Release-14 NB-IoT devices. The software runs on a R&S CMW500 which acts as a base station simulator for several cells. The device under test (DUT) observes the time difference of arrival (OTDOA) of the simulated cells and reports it to the serving cell, which is also simulated by the R&S CMW500. The R&S CMW500 calculates the position of the DUT by using the reported OTDOA measurements and sends the position coordinates back to the DUT. This R&S LBS solution based on R&S CMWcards is able to provide R&D as well as GCF and PTCRB pre-certification for chip sets and mobile devices.
Alexander Pabst, Vice President Systems and Projects within the Test & Measurement division of Rohde & Schwarz, says: "We are delighted to collaborate with CommSolid and to contribute with our test and measurement expertise to the development of Cat-NB2 location based services. Rohde & Schwarz TS-LBS already has a strong global footprint with testing solutions for A-GNSS such as A-GPS, A-GLONASS, A-BeiDou and for OTDOA/eCID as well as for eMTC and NB-IoT. Thanks to our close cooperation with our partners, Rohde & Schwarz is committed to accompanying the evolution from existing to new positioning technologies such as Cat-NB2 with our innovative test and measurement solutions."
"Pushing the envelope in NB-IoT is key to deliver this new technology's full merits to the industry", states Dr. Matthias Weiss, Managing Director at CommSolid, "We are committed to provide leading edge NB-IoT solutions - delivered for 3GPP's Release 14 extensions and beyond. Having Rohde & Schwarz as our testing partner enables us to develop and verify our Cat-NB2 modem early on. Our reference device provides a full software upgradable Cat-NB2 advanced implementation and achieves industry-leading positioning accuracy. The update to 3GPP Release 14 functionality and associated new features such as positioning, higher data rates and a reduced transmit power class enable a wealth of new applications via cellular IoT."
At MWC 2018, Rohde & Schwarz will showcase this first test solution for Cat-NB2 LBS based on the R&S CMW500 with R&S CMWcards and CommSolid's NB-IoT modem in hall 6, booth 6C40, from 26 February to 1 March 2018. For more information, visit www.rohde-schwarz.com/mwc.
Rohde & Schwarz
The Rohde & Schwarz technology group develops, produces and markets innovative information and communications technology products for professional users. Rohde & Schwarz focuses on test and measurement, broadcast and media, cybersecurity, secure communications and monitoring and network testing, areas that address many different industry and government-sector market segments. Founded more than 80 years ago, the independent company has an extensive sales and service network in more than 70 countries. On June 30, 2017, Rohde & Schwarz had approximately 10,500 employees. The group achieved a net revenue of approximately EUR 1.9 billion in the 2016/2017 fiscal year (July to June). The company is headquartered in Munich, Germany, and also has regional hubs in Asia and the USA.
About CommSolid
CommSolid is the cellular IoT company providing leading edge ultra-low power solutions for the growing IoT market. This market demands highly optimized and easy-to-integrate communication solutions for the NarrowBand-IoT standard, allowing every sensor to be directly connected to the Internet. Leveraging the experience of more than a decade at the forefront of the wireless communication business, CommSolid has unique capabilities to handle high volume and extremely integrated low power solutions. Since February 2018 CommSolid is member of the Goodix Family.
Additional information is available at www.commsolid.com.
Related