Rogan Adds New Cold Deck System to Its Vertical LSR Molding Machine, Increasing Capacity and Productivity while Reducing Waste and Tooling Costs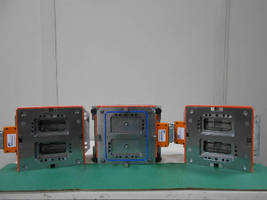 Northbrook, IL — Rogan Corporation, known for its true two-shot, liquid silicone rubber, and insert molding, has purchased and added a new cold deck system to its vertical Sodick Plustech Liquid Silicone Rubber (LSR) molding machine. The cold deck will reduce the volume of LSR material used during molding by eliminating the sprue and runner waste that occurs with traditional silicone injection molding. The result is a reduction in part costs, material savings, reduced cycle times, and increased equipment utilization. In addition, Rogan customers also experience a significant tooling savings benefit.



"Given the complexity of the LSR parts that we produce," states Jim Ritzema, Rogan's Director of Operations, "customers can realize tooling savings of between $25,000 - $50,000, depending on the size of the mold, by not having to purchase a cold deck system for their custom tooling."



The Rogan cold deck is a two-drop system. The vertical LSR molding machine has a rotary platen on the core side, so there are two bottom halves and one top half. When molding a part, the operator is able to de-mold parts and/or load inserts into the B half while the molding cycle is taking place. The result is faster molding cycles and maximum operator efficiency.

Rogan currently has similar cold deck technology in place with its horizontal LSR molding machines. Adding this system to its vertical LSR molding machine provides the company with additional capacity to take advantage of better utilization of equipment.



"This new cold deck system will further reduce material costs for our LSR molding customers," says Ritzema. "Unlike waste from thermoplastic molding, which can often be re-ground and re-processed, waste from LSR molding is a loss, and can be a major cost factor, since LSR is a premium material. This is especially true when molding small parts, where typically the runner can often be as much as five times the size of the individual part itself."



Rogan purchased the cold deck system from M.R. Mold and Engineering. The system is a split plate design that facilitates ease of cleaning and maintenance. This design also allows for quick material and color changes.



Using the new cold deck system, Rogan can efficiently mold small parts, as well as larger parts up to 12 square inches.



Rogan Corporation specializes in Liquid Silicone Rubber Injection Molding, Two-Shot Thermoplastic, and Insert Molding. Industries served include medical, electronics, military, aerospace, commercial and industrial markets. Rogan offers collaborative engineering, product design, and assistance in material selection to ensure customer satisfaction.



Rogan  is celebrating 80 years of experience in partnering with customers to produce quality molded parts and assemblies. For more information about Rogan and its innovative liquid silicone rubber injection molding capabilities, call (800) 584-5662 or visit the company web site at www.rogancorp.com.

More from Machinery & Machining Tools