Rodent Ventilator combines versatility and usability.
Press Release Summary: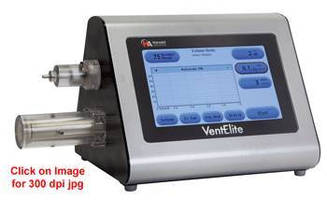 Targeting research involving animals ranging in size from mice to guinea pigs, VentElite fosters safe and physiologically accurate mechanical ventilation conditions. Piston/cylinder and valve assemblies, combined with microprocessor controlled actuation mechanisms, precisely control respiration profiles. Along with Volume and Pressure Control modes, features include touchscreen operation and manual or programmable Sigh, Inspiratory, or Expiratory Hold.
---
Original Press Release:

NEW VentElite Ventilator for Rodents



Harvard Apparatus is proud to introduce the new VentElite ventilator for rodents.  The VentElite was designed for small animal research applications and is intended for use on subjects ranging in size from mice to guinea pigs.



Designed to maintain versatility and ease of use while fostering safe and physiologically accurate mechanical ventilation conditions, the VentElite utilizes advanced piston/cylinder and valve assemblies, combined with microprocessor controlled actuation mechanisms to precisely control respiration profiles.



The VentElite has two operating modes, Volume Control and Pressure Control, and allows users to easily toggle between these two modes via the "Settings" button on the large touch screen.  Features of the VentElite include manual or programmable Sigh, Inspiratory or Expiratory Hold, adjustable I:E, built in PEEP, audible alarms, and a real-time graphical representation of the detected pressure.



Harvard Apparatus is a wholly owned subsidiary of Harvard Bioscience, Inc.  Harvard Bioscience is a global developer, manufacturer, and distributor of innovative and specialized products to enhance bioresearch.



For more information, contact:

Harvard Apparatus

84 October Hill Road

Holliston, Massachusetts 01746 USA

Toll Free: 800-272-2775

Phone: 508-893-8999

Fax: 508-429-5732

E-mail: techsupport@harvardapparatus.com

Web: www.harvardapparatus.com