Rod Lock Cylinders suit NFPA applications.
Press Release Summary: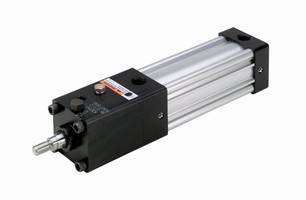 Designed for clamping, load holding, or E-stop applications, Series 3MA and 4MA cylinders hold loads in static condition while air pressure is removed from system. Available in 7 bore sizes ranging from 1.125-5.00 in., low friction 3MA cylinders have maximum operating air pressure of 250 psi and operating temperature range of -10 to +165°F. Intended for customization, 4MA units feature -50 to +250°F temperature range, standard and oversize rods, and externally removable rod gland.
---
Original Press Release:

New 3MA Series and 4MA Series from Parker Hannifin Redefine NFPA Rod Lock Cylinder Platform



DES PLAINES, ILLINOIS, MAY 21, 2007 - The Actuator Division of Parker Hannifin Corporation (NYSE:PH) introduces a next-generation solution for NFPA (National Fluid Power Association) cylinder applications. The new 3MA Series and 4MA Series of cylinders deliver superior performance resulting from efficient design, reduced weight, low friction, and advanced sealing technology. The 4MA Series is designed for customization and offers availability of all options.

Because 3MA and 4MA rod lock cylinders are designed to hold loads in a static condition when air pressure is removed from the system, they are ideal for clamping, load holding or emergency stop (E-stop) applications.

Available in seven different bore sizes, from 1.125" to 5.00", 3MA cylinders have strokes in any practical length and have a variety of rod diameters. 3MA cylinders have an operating temperature range of -10 F to +165 F (-23°C to +74) and a maximum operating air pressure of 250 PSIG. The unique 1.125" bore includes a hydraulic version (Parker 3ML Series) with a maximum operating hydraulic pressure of 1,100 PSIG.

The 3MA Series is the latest in a line of Parker NFPA cylinders spanning 30 years of innovative design and production that includes MA Series and 2MA Series cylinders. Original breakthroughs introduced with these product lines included aluminum endcaps and tubing, check seal cushions, and tie-rod mounted sensors.

The use of lighter composites that deliver the same service life as aluminum or bronze, combined with die-cast endcap design, make the average weight of the 3MA cylinder 15% less than comparable cylinders. Composite materials significantly reduce inertia of moving parts and generate less friction than other materials. An added advantage of composite piston and endcap inserts is an automatic noise pollution reduction of 12 dB when compared with typical aluminum cylinder designs. Environmentally friendly, all 3MA materials are 100% recyclable, including the aluminum, steel, composite parts, and the nitrile and urethane seals.

All moving components in the 3MA cylinder are designed for low friction, which results in less wear. This is accomplished with zero leakage because of rounded-lip rod and piston seals that glide on lubricant film, self-lubricating carboxylated nitrile polymer to maximize seal life, and nitrile end seals on the smooth bore of the cylinder body, which is the optimal sealing surface.

The cylinder's standard mount feature accommodates almost all NFPA mounts as accessories. 3MA's flexible design means that mountings can be installed at the factory or from separately ordered kits. For precise load holding and emergency-stop situations, where safety is critical, the 3MAJ rod lock cylinder is also available. Parker 3MAJ rod locks are IP67 rated, exceed NEMA 4X requirements, and are classified as EN 954 Category 1 for robust applications.

The innovative 3MA features advanced endcap and piston design. Anodized, high-pressure, die-cast aluminum heads and caps for flexible mounting. Full-flow ports combine with low inertia piston rod assembly to minimize cylinder response time. Floating check-seal design combines sealing capability of a lipseal with check valve action for quick stroke reversal, while outstanding cushioning performance is the result of sophisticated piston architecture and durable urethane seals.

Sensor-ready, the 3MA has a unique extruded-profile cylinder body that provides integrated grooves to minimize sensor installation time, maximize sensor protection, and eliminate the need for brackets. A magnetic piston ring is standard. Sensors drop into grooves in the cylinder body for easy, inexpensive assembly and protection. Most sensors are CE approved and UL listed, with options that include ATEX, NAMUR (intrinsically safe) compliance, as well as meeting CSA and Weld Immune specifications. All sensors are RoHS compliant or excluded from the directive.

Proven exterior toughness is established from corrosion-resistant anodized aluminum alloy heads, caps and cylinder body; zinc plated steel endcap fasteners; case-hardened, hard chrome plated steel piston rods; and a durable urethane wiper designed to remove external debris and adherents from the piston rod during the entire stroke.

Standard 3MA mode code options include piston bumper seals, traditional ¼" urethane bumpers, fluorocarbon rod seals, stainless steel rods and double rod ends.

The Parker 4MA, designed for customization, meets the demand when cylinder flexibility is mandatory and access to all cylinder options is required. Standard features of the 4MA Series include a larger bore size range, standard and oversize rods and an externally removable rod gland (bearing). Model code options include many porting styles, high temperature (to +250°F) and low temperature (to -50°F) ratings, hydraulic service to 400 PSIG, a HI LOAD gland option for side load conditions, a metallic rod wiper gland option for rod adherents, stainless steel rods, a HB slide package for conversion to a guided cylinder, an ACVB option for an air cylinder/valve combination unit, a LPSO option for continuous piston rod position sensing (with LDT), and a 4MAJ rod lock version (all bores). All available options are detailed in the Parker catalog.

Private labeling is available for both the 3MA Series and the 4MA Series at no charge (text only). Machine designs incorporating 3MA and 4MA cylinders are facilitated by configurable 2-D and 3-D CAD files available at www.parker.com/pneumatics.

Parker 3MA and 4MA Series cylinders are domestically manufactured in strategic locations as part of a comprehensive customer service model that focuses on quick delivery, minimization of time-to-customer and cost-to-customer concerns, and the capability to accommodate non-standard designs with minimal lead-time adjustments.

With annual sales exceeding $9 billion, Parker Hannifin is the world's leading diversified manufacturer of motion and control technologies and systems, providing precision-engineered solutions for a wide variety of commercial, mobile, industrial and aerospace markets. The company employs more than 57,000 people in 43 countries around the world. Parker has increased its annual dividends paid to shareholders for 50 consecutive years, among the top five longest-running dividend-increase records in the S&P 500 index. For more information, visit the company's web site at www.parker.com, or its investor information site at www.phstock.com.

For more information regarding the 3MA Series of NFPA cylinders, contact Parker Hannifin Corporation, Actuator Division. Phone 847-298-2400 or visit us online at www.parker.com/actuator.

More from Electronic Components & Devices