Rod Guides feature hydrodynamic design.
Press Release Summary: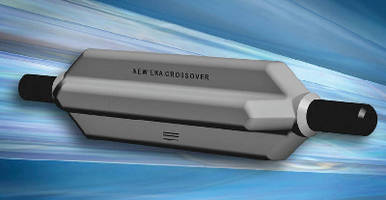 Intended for progressing cavity downhole pumping applications, Era® CrossOver(TM) High Performance Rod Guides are manufactured from engineered plastics, enhanced with performance additives to withstand well conditions up to 500°F. Hydrodynamic design helps keep fluid closer to laminar flow around guide and minimizes chance of gas breakout, while concave body channel allows wider vanes and low fluid drag. DuraGuide(TM) wear indicators provide visual confirmation of remaining erodible material.
---
Original Press Release:

New Era® CrossOver(TM) High Performance Rod Guides Feature Hydrodynamic Design to Keep Fluid Closer to Laminar Flow



Willis, Texas - Robbins & Myers Energy Services Group introduces the latest high performance rod guide for progressing cavity downhole pumping applications. The New Era® CrossOver(TM) High Performance Rod Guides can effectively increase production and decrease workover costs by extending rod and tubing service life in standard and high temperature applications. These rod guides deliver maximum performance, even in well conditions that reach up to 500°F.

The New Era CrossOver rod guide has a hydrodynamic design manufactured from engineered plastics enhanced with performance additives specifically tailored to withstand high temperature well conditions. This design helps keep fluid closer to laminar flow around the guide and decreases the chance of gas breakout.

The concave body channel allows wider vanes, more erodible material than other designs and low fluid drag. Additional features and benefits include:

· Reduced hydraulic drag force maximizes carrier bar loads on the downstroke

· Wider vanes for maximum surface bearing area

· Custom designed for each rod and tubing size to allow maximum vane width and optimum bypass area

· Nominal tubing sizes: 2", 2 1/2", 3"

· DuraGuide(TM) wear indicators provide easy visual confirmation of remaining erodible material on guides

· All materials available

Robbins & Myers Energy Services Group can recommend the proper rod guide design, material, spacing and auxiliary equipment for both beam and progressing cavity pump applications using its proprietary Rod Guide Advisory Program (RGAP(TM)) software along with its years of well monitoring and performance tracking. Wellbore deviations, dynamometer readings, workover histories, well operating conditions, completion information and production data are all used to properly select the most effective New Era rod guide design, material and spacing for each well.

Robbins & Myers Energy Services Group manufactures and markets a wide variety of products for use in the discovery and recovery segments of the oil and gas industry. Robbins & Myers Energy Services Group's products include the following: Hamer® Line Blinds; Hercules® Wellheads, Valves, Stuffing Boxes, and artificial lift accessories; Magnum® Needle Valves; standard and customized Moyno® Down-Hole Pumps; Moyno® Guardian(TM) Variable Speed Drives; Moyno® Surface Pumps, Moyno® Tri-Phaze Systems; Moyno® and Moyno® ERT(TM) Power Sections; Moyno® HTD(TM) High Temperature Down-Hole Pumps; Moyno® ElectroFlo(TM) Generators; New Era® Rod Guides; Resun® Plug Valves; RODEC(TM) Tubing Rotators, artificial lift accessories and down-hole tools; StayTite® Swing Joints; Yale® SafeClamp(TM) Closure; Yale® Closures and Hammer Unions; SENTRY® Closures; T3 Annular Blowout Preventers; T3 Shear Rams; T3 Choke & Kill Manifolds; T3 Wellheads; T3 HXE G3 Choke; T3 Frac Manifold; T3 CVC Digital Control Choke and T3 HPT(TM) Extreme Service Gate Valve. With facilities in the U.S., Belgium, Venezuela, Australia and Canada, Robbins & Myers Energy Services Group readily serves customers worldwide.

Please forward Canadian reader service inquiries to Greg Thompson, Robbins & Myers Energy Services Group, 510 - 5th Street SW, Calgary, Alberta T2P 3S2, Phone: (403) 952-9588 Fax: (403) 264-2204 E-mail: esg.marketing@robn.com

Please forward U.S. reader service inquiries to Angel Santos, Robbins & Myers Energy Services Group, 10586 Highway 75 North, Willis, TX, 77378. Phone: (936) 890-1064, Fax: (936) 890-9595, E-mail: esg.marketing@robn.com

More from Paints & Coatings