Motion Sensors / Detectors / Transducers
Rod and Cylinder Sensor measures position with zero wear.
Press Release Summary: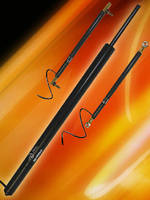 Employing piston-mounted magnet on 12.5 mm rod that extends and retracts to measure motion, Temposonics® C-Series Model CR integrates standard Model CS or CM sensor inside 1 mm thick steel mechanical package that protects sensor electronics from damage. It employs magnetostrictive, non-contact, absolute position sensing technology modules and can withstand shock/vibration up to 5G. Supply options include 5 or 12 Vdc versions, and 6 standard lengths are available from 72.3-250.1 mm.
---
Original Press Release:

MTS Develops Temposonics® C-Series Model CR Rod & Cylinder Sensor



Field- proven, zero-wear, non-contact sensors now available in rugged, bolt-on housing package...

CARY, NC (September 23, 2009) - MTS System Corp., Sensors Division has added the new Model CR Rod & Cylinder sensor to its Temposonics® C-Series product line. The cost-optimized Model CR integrates a standard Model CS or CM sensor inside a versatile and rugged thick steel mechanical package, which protects the sensor electronics from mechanical and environmental damage. Employing proven magnetostrictive, non-contact, absolute position sensing technology modules, the Model CR sensor is also rated to withstand shock and vibration up to 5g. Available in 5- and 12VDC supply options, Model CR Rod & Cylinder sensors are ideal for a wide range of applications, including medical, recreational, and automotive, among others.

"Introduced in 2004, our C-Series sensors provide OEMs with magnetostrictive position sensing technology priced for consumer products," said Jesse Russell, an industrial product manager at MTS. "In response to consumer demand, we have developed the Model CR, the first rod-and-cylinder packaged version of our proven, cost-driven C-Series sensors, significantly expanding the sensors' potential applications."

Containing an internal, non-contact, piston-mounted magnet on a rod that extends and retracts to measure motion, the Model CR package features a 1mm thick housing, stiff 12.5mm rod, and is IP67-rated; rendering it capable of withstanding shock and vibration in a variety of harsh environment applications. The versatile and rugged mechanical package of the Model CR also enables quick and easy bolt-on installation and can be mounted using the integrated M10 x 1.5 stud and rod end or MTS accessory swivel studs or ball ends.

MTS Sensors is the first company to make the benefit of zero-wear, non-contact sensing available in this type of packaging. Furthermore, by taking advantage of the already low-cost C-Series Sensor line and leveraging high-efficiency production mechanical packaging, the Model CR is competitive with both linear potentiometers and LVDT's.

The Model CR Rod & Cylinder sensor is available in two analog models, a 5 VDC supply ratiometric output version and 12 VDC supply reference voltage output version, both of which feature a pulse width modulated (PWM) output. Additionally, the 12 VDC model features additional protection from over-voltage and reverse connection, EMC protection for both emissions and immunity, and the option to be operated at 5VDC, at which point its output becomes ratiometric.

Featuring a linearity of +/- 0.3mm, repeatability of +/- 25 microns, and a 2.6kHz update rate, the Model CR is available in six standard lengths along the 250mm active stroke range: 72.3mm, 109.3mm, 148mm, 186.3mm, 217.3mm, and 250.1mm. Connection is made using a three-wire, one meter cable with 24 AWG wire. Operating temperatures range from -40°C to +75°C.

For more information on Temposonics sensors, please contact: MTS Systems Corp, Sensors Division, 3001 Sheldon Drive, Cary, NC 27513. Phone: (919) 677-0100. E-mail: info@mtssensors.com or visit their web site at www.mtssensors.com.

MTS Sensors, a division of MTS Systems Corp., is the global leader in the development and production of magnetostrictive linear-position and liquid-level sensors. Based on MTS' patented Temposonics® technology, the Sensors Division is continually developing new ways to apply magnetostrictive sensing technology to solve critical applications in a variety of markets worldwide. With facilities in the U.S., Germany and Japan, MTS Sensors Division is an ISO 9001 certified supplier committed to providing innovative sensing solutions that deliver customers with reliable, cost effective sensing devices.

More from Health, Medical, & Dental Supplies and Equipment