Rockwell Automation to Feature Integrated Robotic Control and the Benefits of Programming Standards at PACK EXPO 2007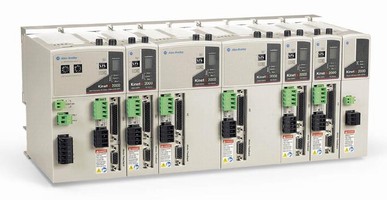 LAS VEGAS, Oct. 1, 2007 - At PACK EXPO Las Vegas, Rockwell Automation will build on its "What Matters to OEMs" initiative and continue to address the most important issues faced by today's packaging OEMs. The integrated control and information supplier also will showcase its capabilities in robotic control as robots become more integrated into machine design and provide opportunities to increase productivity and reduce floor space.

"Machine builders and end users now have more freedom to build their own robotic system -- bringing together the control system and mechanics of their choice -- and integrating it more tightly with the packaging line," said Mike Wagner, segment business manager, packaging, Global OEM Solutions, Rockwell Automation. "With this increased design flexibility, Rockwell Automation customers can select an off-the-shelf, integrated kinematics motion control system that is easier to program and adjust for quick changeovers."

Additionally, Rockwell Automation will demonstrate the benefits of programming
standards such as ISA S88 Part 5 and Add-On Instructions (AOIs). An enhancement of the latest version of Rockwell Software RSLogix 5000 programming software, AOIs are a programming methodology in which code is encapsulated into user defined modules that can be easily reused without modification. AOIs help OEMs and end users reduce project development time, improve accuracy and consistency, simplify maintenance, and reduce equipment startup and training expenses.

"OEMs that serve multiple industries can re-use their customized programming instructions, reducing their overall time to design, develop and deliver their machines," added Wagner.

The Rockwell Automation booth will also highlight the company's Integrated Architecture(TM) solutions for the packaging industry including:

o GuardLogix with RSLogix 5000 v. 16 release. GuardLogix is a fully functioning ControlLogix Programmable Automation Controller (PAC) with Safety Integrity Level (SIL) 3 safety features that allow users to perform safety and standard control within a single project. GuardLogix uses the newly released Rockwell Software RSLogix 5000 v. 16 programming software which has opened the door to new capabilities that help improve safe and discrete motion, drive and process control without any imposed restrictions. GuardLogix also features CAT 2, 3, 4 (EN 954) safety control, 49 TÜV certified safety instructions, CIP Safety I/O on DeviceNet, and Common Industrial Protocol (CIP) safety bridging over EtherNet/IP or ControlNet.

o SensaGuard Non-Contact Switches. SensaGuard is a family of next generation non-contact switches using RFID technology for coding and inductive technology for sensing. Intended for machine guarding with part or full body access, SensaGuard provides a higher level of security because it contains active electromagnetic protection devices that have sensing distances up to 30mm. SensaGuard comes in a plastic or stainless steel barrel and the rectangular flat pack increases the product's status and diagnostic capabilities with indication LED on the sensor. It is particularly suited for packaging machines where multiple access doors must be monitored up to Safety category 4/SIL3. It is a cost-effective solution that is ideally suited for a wide range of industrial safety applications.

o MP-Series Integrated Linear Stages. Rockwell Automation has introduced a new line of linear stages that can help OEMs reduce the time and costs associated with machine design, programming and commissioning. The Allen-Bradley MP-Series Integrated Linear Stages eliminate the need to combine separate components from multiple suppliers and, consequently, also eliminate the related assembly labor. Available in both direct drive and ballscrew versions, these linear stages feature full setup and programming support through RSLogix 5000 software, providing seamless integration into the Rockwell Automation Integrated Architecture(TM). The linear stages also offer quick change exterior cable track and an IP30 environmental rating.

o Allen-Bradley Kinetix 2000 Servo Drives. The high precision and advanced control capabilities of Kinetix servo technology are available in lower power ranges with Allen Bradley Kinetix 2000 servo drives from Rockwell Automation. Ideal for small packaging applications, these additions to the Kinetix family enable packaging OEMs to expand their offerings with solutions that better suit end users with lower power requirements ranging from 300 watts to 3 kW. Kinetix is the motion control component of the Rockwell Automation Integrated Architecture. The Kinetix 2000 servo drive seamlessly integrates with Allen-Bradley Logix controllers, servo motors and actuators to bring unmatched flexibility to machine design and unprecedented energy efficiency to manufacturing control systems.

Rockwell Automation, Inc. (NYSE: ROK) is a leading global provider of industrial automation power, control and information solutions that help manufacturers achieve a competitive advantage in their businesses. The company brings together leading global brands in industrial automation which include Allen-Bradley controls and services and Rockwell Software factory management software. Headquartered in Milwaukee, Wis., the company employs about 19,000 people serving customers in more than 80 countries.
For more information on Rockwell Automation at PACK EXPO Las Vegas, please contact either of the individuals listed above.


More from Controls & Controllers