Robust Well-Specified Hoists for General Industry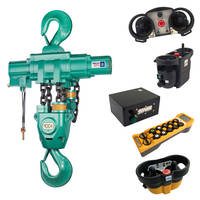 In an era when the industrial world is becoming ever-larger, there is a growing responsibility on equipment suppliers to make sure the market has everything it requires to function safely, reliably, efficiently and cost effectively. With this notion in mind, J D Neuhaus (JDN) has always had a policy of continuous investment in its class-leading range of hoists and cranes for the general industrial marketplace.
JDN has been at the vanguard of hoist and crane technology for over 270 years, whether for moving heavy or light loads. The company's range today is broad and feature-rich, ensuring virtually every type of general application can be served. Products available include pneumatic cranes, C-rail/light crane systems, pneumatic hoists (Profi, Mini and M ranges), manipulators, trolleys (including low headroom versions), big bag handling hoists and monorail hoists. Such products have become the mainstay of general manufacturing and process operations around the world as a myriad of industrial tasks demand lifting and maneuvering, which without mechanical assistance would prove unproductive.
JDN's focus on R&D ensures that its range continues to evolve. The latest products have been engineered to offer extended service life, simple operation and ecological compatibility, all without any compromise to safety or performance. Among the latest innovations from JDN is a newly developed remote control concept that brings exceptional ease-of-use and convenience to users across all industries. Comprising a transmitter and receiver, the JDN-RC (Remote Control) is available for both new and retrofit applications.
Of course, due to the wide-ranging demands of industrial applications in which hoists and cranes are expected to perform, all JDN products are engineered for extremes. Typical applications include aircraft construction, general assembly lines, auto plants, dairies, electroplating lines, foundries, paint shops, steelworks, power plants, refineries, sawmills, shipyards and tempering plants, as well as a host of uses in the chemical, cement, food, furniture, glassmaking, paper and textile industries, to list but a few.
Explosion protection, which is paramount in many industrial applications, is assured as JDN chain hoists and crane systems are driven by compressed air, which offers an unbeatable advantage in comparison with electrical hoists: air generates no sparks.
Ultimately, there are virtually no general industry lifting applications for which JDN cannot offer the ideal hoist or crane solution. Lifting capacities of up to 100 metric tons are available to move loads reliably as part of repetitive cycle lifting, day after day, in more than 70 different sectors. Furthermore, the 100% duty-free cycle of the equipment, which can either be used directly in applications or as part of OEM material handling devices, allows workers around the world to work longer and harder.
Company Information
With over 200 employees across the group, J D Neuhaus manufactures pneumatically and hydraulically-operated hoists and crane systems up to 115 metric ton capacity from its state-of-the-art facility in Witten, Germany. This globally unique specialization means that J D Neuhaus has set the quality standard for the market, a move that has seen the company become the established global leader in its technology field with customers in more than 90 countries worldwide.
Resilience and reliability are the key product differentiators, thanks largely to their explosive protection rating which makes them ideal for use even in the most challenging of operating environments. Extreme applications include oil and gas exploration in arctic temperatures as low as ‑45°C, along with underwater tasks such as ship hull repairs, and plenty of others in demanding sectors like mining, the chemical industry, heavy plant construction and many areas of logistics.
The wide portfolio of services provided by J D Neuhaus includes equipment assembly, inspection, maintenance and general overhaul, along with the supply of customer training courses.
Over 80% of production from the Witten plant is exported, which is why the company has long-established subsidiary companies in France, Great Britain, Singapore and the USA, all of which have helped create a tight-knit global network in collaboration with international partners.
J D Neuhaus has history that can be traced back to 1745, and is now in its seventh generation of family ownership. Visitors to the Hebezeug-Museum (Hoist Museum) in Witten, are able to see for themselves the remarkable history of this progressive company.
Further information is available on request to:
J D Neuhaus L.P., 9 Loveton Circle, MD 21152 Sparks, USA
Contact: Peggy Weber
e-mail: p.weber@jdneuhaus.com
Office Phone: 1-888- NEUHAUS
Company information
J D Neuhaus are a privately-owned company, founded in 1745, and for over 270 years they have been using their expertise and experience to manufacture the highest quality hoists and cranes.
Their products offer solutions to almost every material handling problem irrespective of the driving medium: from air and hydraulic hoists up to complete crane installations with explosion proofness.
JDN products are used in a wide variety of industries including:
Airplane Yards; Atomic/Coal Power Stations; Big Bag Handling; Cement Industry; Chemical Industry; Crane Manufacturers; Dairies; Food Industry; Foundries; Galvanisation; Glass/Ceramics; Large Kitchens; Leather Plants; Locks; Machine and Plant Construction; Mining; Motor Car Industry; Offshore/Onshore; Oil Storage; Over/Underground Construction; Paints and Varnish; Painting and Coating Installations; Paper Industry; Pharmaceutical Industry; Printing Industry; Pyrotechnics Industries; Refineries; Sawmills; Shipbuilding and Shiprepair Yards; Ships; Space Technique; Spray Booths; Steel Works; Surface Technique; Tank Cleaning Devices; Textile Industry; Tunnel; Tyre Manufacturers; Vacuum Technique 
Contact J D Neuhaus
J D Neuhaus are represented in more than 90 countries and over 70 branches Worldwide.
Germany
J D Neuhaus GmbH & Co. KG, 58449, Witten-Heven, Germany
Tel: +49 2302 208-219
Fax: +49 2302 208-286
e-mail: info@jdngroup.com
France
J D Neuhaus S.A.R.L., 24, rue du Président Krüger, 69008, Lyon, France
Tel: +33 4 3790-1745
Fax: +33 4 3790-1746
e-mail: info@jdneuhaus.fr
Great Britain
J D Neuhaus Ltd, Unit 6 Kirkton Avenue, Pitmedden Road Industrial Estate, Dyce, Aberdeen, AB21 0BF, UK
Tel: +44 1224 722751
Fax: +44 1224 729895
e-mail: info@jdneuhaus.co.uk
Singapore
J.D. Neuhaus Pte. Ltd, 21 Toh Guan Road East, #09-02 Toh Guan Centre, 608609, Singapore
Tel: +65 62758911
Fax: +65 62758922
e-mail: info@jdn.com.sg
USA
J.D. Neuhaus L.P., 9 Loveton Circle, MD 21152 Sparks, USA
Tel: +1-410 472-0500
Fax: +1-410 472-2202
e-mail: info@jdneuhaus.com
Related