Robu® Borosilicate Glass Filter Products Feature High Chemical Resistance, Minimum Thermal Expansion, and High Thermal Shock Resistance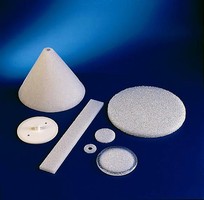 Robu® VitraPOR(TM) borosilicate glass filter products, distributed by Andrews Glass Company, offer extremely high chemical resistance, minimum thermal expansion, and high thermal shock resistance. Made from borosilicate glass according to international standards, these glass filter products are ideal for use in chemical, biochemical, pharmaceutical, and laboratory applications. Standard fritted discs are available in round shapes from 5 mm to 400 mm diameters. They are also available in precision ground and fused edge configurations. Filter candles are available in cylindrical or conical shapes from 9 mm to 40 mm in diameter. Custom filters can be provided in any shape up to 400 mm, in almost any thickness. Any cylindrical or conical filter candle can be produced to customer design.

ROBU® VitraPOR(TM) glass filter products are available in porosities ranging from 1µm to 550 µm, following ISO and NIST standards. Each batch is carefully tested to assure the greatest uniformity available. As a result of a sophisticated manufacturing process, these sintered glass filter products can be used safely in applications where operating temperatures reach 515ºC.

For more information call 800-845-0026, FAX 856-692-5357, visit: www.andrews-glass.com or write Andrews Glass Company, 3740 NW Blvd., Vineland, NJ 08360.


More from Explosives, Armaments, and Weaponry