Robotic Surface Preparation System blasts trays of components.
Press Release Summary: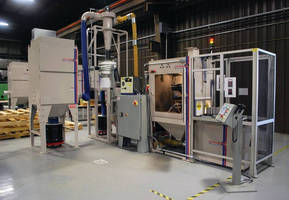 Using 6-axis Fanuc LR Mate 200iC robot, Model RB-600 repeats programmed surface preparation routines on individual components and automatically processes full tray of parts. Articulated arm, mounted upside down on engineered structure under roof of grit-blasting chamber, is fitted with pneumatically actuated gripper and tailored suit of laminated fabric. Robotic motion programs and blast processing recipes for 50+ different components can be stored for instantaneous recall.
---
Original Press Release:

Robotic Surface Preparation System Blasts Trays of Components



Saratoga Springs, NY — Guyson Corporation has designed and built a robotic blast machine that precisely repeats programmed surface preparation routines on individual components and automatically processes a tray-full of parts without interruption.



The Model RB-600 uses a 6-axis Fanuc LR Mate 200iC robot as a component manipulator. Mounted upside down on an engineered structure under the roof of the grit-blasting chamber, the articulated arm is fitted with a pneumatically actuated gripper and a tailored suit of laminated fabric that isolates the robot from the harsh abrasive environment of the process enclosure.



Like components in a production lot are placed in a custom-designed tray or pallet that precisely orients the parts for robotic picking. The tray of components is placed on the transfer cart at one end of the robotic blast system, and a bar code is scanned to identify the part number to be processed and automatically call up the associated robot motion program and blast process parameters.



The transfer cart shuttles in and out of the blast chamber at the end of each blast cycle, so a finished component can be returned to the tray and an unblasted part can be picked up by the component-handling robot. To ensure accurate positioning, the motion of the cart is servomotor driven and controlled as a seventh axis of robotic motion.



Inside the blast finishing cabinet, a single pressure-blast nozzle is rigidly bracketed in position within easy reach for the robot to hold the component in the blast stream at the correct angle and distance to the nozzle, turn and move the part at the right surface speed for thorough surface preparation and efficiently follow the programmed tool path to ensure complete coverage without over-blasting.



A second gripper is installed on the inside of the cabinet wall to temporarily hold the component and enable the robot to re-grip the part and obtain 100 percent coverage by blasting those areas masked by the first grip.



Robotic motion programs and blast processing recipes for more than fifty different components can be stored and recalled instantaneously. No set-up time or adjustments are required to change-over from one part number to another, and trays of components can be processed in any sequence, so long as the scanned identifier for each tray matches with an existing program file.



The blast machine manufacturer claims that a single, lightly attended, robotic grit-blast system of this type has proven to equal the throughput of four manually operated blast cabinets, with energy savings of 70 percent from reduced compressed air consumption and a dramatic improvement in the consistency of finish around all areas of a single component and from one component to another.



The energy savings does not stop there. New low-energy LED lights for cabinet illumination have been adopted as standard equipment on all models, increasing the intensity of lighting by 40 percent while reducing electricity used by 75 percent.



Prospective users of automated or robotic blasting equipment are invited to submit sample components for free laboratory testing and application engineering evaluation at the blast machine builder's factory in northeastern New York State.



CONTACT FOR ADDITIONAL DATA: 

J. C. Carson

Guyson Corporation

Saratoga Springs, NY 

Tel: 518-587-7894, ext. 7226

jcarson@guyson.com

More from Architectural & Civil Engineering Products