Robotic Probers target semiconductor test industry.
Press Release Summary: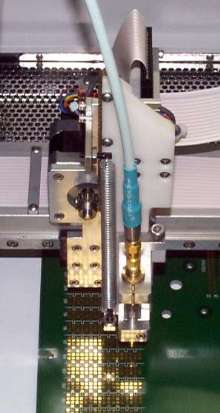 Robotic Probers provide method for validating and calibrating automatic test equipment. Robots attach directly to test head and probe specific pads on device interface board. On-board CPU commands probe tip to move along high-precision linear bearings using optically encoded stepper motors for accurate positioning.
---
Original Press Release:

Owens Design Announces Family of ATE Prober Products


FREMONT, CA - Owens Design Inc., an outsourcing company providing capital equipment engineering, design and manufacturing services for high tech industries, announced today that it has developed a new addition to its family of robotic probers for the high-end semiconductor test industry.

The robotic probers solve one of the critical calibration problems facing high end automatic test equipment manufacturers. These tools, which contain high speed, complex electronics and often sell for as much as $5 million, require a method to validate and calibrate their test signals. The old method was to use an oscilloscope and manually test probe points to gather data on signal timing and accuracy. As test points have increased in number to the thousands, and chip speeds have increased in bandwidth into the GHz, a method for automating this process under software control became evident. Owens Design first designed and delivered a robotic probing device to Intel almost 10 years ago to meet these needs.

Since then, the family of robots has been expanded to include R-Theta and X-Y versions for many ATE testers. The robots attach directly to the test head and probe specific pads on a device interface board. An on board CPU commands the probe tip to move along high precision linear bearings using optically encoded stepper motors for very accurate positioning.

As a VP of Engineering at one customer stated, "Our expertise is in very complex electronics systems and not in automation robotics. We chose Owens Design because they have long expertise in the semiconductor industry and already had much of the solution we were looking for. With minor customizing they quickly delivered exactly what we wanted."

John Apgar, President of Owens Design said, "There are areas of our business where we have created solutions for customer groups that have similar issues. The robotic probers address a specific problem for the high-end test industry where we have been able to synthesize our expertise with precision motion systems with our application specific knowledge of the ATE industry."

Owens Design has provided the robotic prober systems to industry leaders such as Teradyne, Credence, Schlumberger, NP Test, Agilent and Advantest.

For more information please visit www.owensdesign.com


More from Electronic Components & Devices