Robotic Press Brake Cell offers automatic part bending.
Press Release Summary: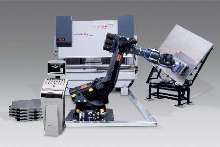 Roboformer G2 features SiX controller, which enables it to produce finished parts directly from CAD drawings. System can automatically synchronize all movements of both press brake and robot directly from solid models. It is never necessary to teach robots, so programming is completed quickly, without interrupting active production. EasyForm Laser offers in-process angle control, while SoftLink manipulator assures alignment of blanks.
---
Original Press Release:
Salvagnini's New, Automated Roboformer G2 Brings Lean Manufacturing Capabilities to Press Brake Bending

HAMILTON, OH (July 20, 2004) - Salvagnini introduced its new Roboformer G2 to the world market at the May 12-15 Lamiera trade show in Bologna, Italy. The company reports that it already has 12 orders for the new, robotic press brake cell, ideal for automatic part bending of large, heavy parts.

In Roboformer G2, Salvagnini has successfully combined the technologies of three industry leaders into a single, automated bending cell that is far more powerful than anything else on the market. Salvagnini, the global pioneer of sheet metal fabricating automation, contributes the software, control systems and the new SiX controller that enable Roboformer G2 to produce finished parts directly from CAD drawings. LVD, provides its PPEB servo-controlled hydraulic press brake plus its extensive database of bending know-how to the G2. Kuka supplies the precision and dependability for which its industrial robots are famous. Roboformer G2 - the brilliance of 3 industry leaders combined by Salvagnini to create an industry breakthrough in press brake bending.

Salvagnini's Roboformer G2 is much more than a robotic press brake. Roboformer G2 should be viewed as single, cohesive bending unit that has the power to automatically synchronize all movements of both press brake and robot directly from solid models. That means it is never necessary to "teach" robots. That means programming is completed in less than one-third the time of competitive brands, off-line, and without interrupting active production.. It means that one shop floor supervisor can oversee the operation of up to 5 Roboformer G2s. It means that, for the first time, lean manufacturing practices can be applied to press brake operations. And with its EasyForm Laser for in-process angle control, and SoftLink manipulator to assure perfect alignment of blanks, it means assured repeatability and confidence that the first part produced on a Roboformer G2 will be a good part.

Roboformer G2 is designed for companies that work with small, often varied batches and are seeking ways to improve their quality, competitiveness and time-to-market. Roboformer is an ideal solution for companies just beginning to automate their shops, as well as those with long histories of high efficiency and lean manufacturing practices.

About Salvagnini. For more than 30 years, Salvagnini has served the global metalworking industry by designing, manufacturing, marketing and servicing flexible sheet metal processing systems, machines, process software and tooling for the lean manufacturing factory. Major product lines include punching and shearing, automatic panel bending and laser cutting machines. And as the originator of automation in the sheet metal fabricating sector, Salvagnini offers complete material handling capabilities, including Automatic Storage and Retrieval Systems (ASRS), robotic loading/unloading, conveying and parts manipulation. More than 2,500 Salvagnini systems are in operation in more than 50 countries around the world.

To find out more about how the Roboformer G2 can contribute to your lean manufacturing environment, contact Salvagnini America, Inc., 27 Bicentennial Ct., Hamilton, OH 45015. Phone: (513) 874-8284. Fax: (513) 874-2229. Website: www.salvagnini.com
More from Electrical Equipment & Systems