Robotic Packaging System reduces labor requirements.
Press Release Summary: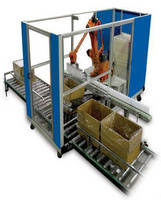 Intended for use by bottle manufacturers, Pakman Packaging System features fully-articulated, 6-axis robot mounted on structural sub-frame. Other features include infeed product conveyor, box-in-feed and exit roller conveyor, and safety guards. Able to be moved around via heavy-duty castor wheels, system is designed to pack blow molded containers into boxes in layers. Functionality is further enhanced via quick-change end-of-arm tooling and recipe-storing control system.
---
Original Press Release:

Proco Machinery's Pakman Packaging System Delivers Labor-Saving Robotics and Easy Portability



Compact, Space-Saving Design Provides Flexibility for Container Makers

MISSISSAUGA, ON - The new Pakman Packaging System from Proco Machinery Inc., a leading supplier of automation systems for the plastics container industry, sets a new industry standard by delivering improved performance and greater flexibility for bottle manufacturers. The new system offers distinct benefits over competitive manual case packagers and is unique because of its compact space-saving design and portability, enabling manufacturers to maximize their investment.

"The robotic capability provides a major step change over manual systems and the portability brings significant flexibility over most robotic set-ups which are fixed in one location," said Siva Krish, sales manager for Proco Machinery.

The Pakman Packaging System is outfitted with heavy-duty castor wheels which allow the unit to be easily moved from one line to another. The heart of the system is a fully-articulated six-axis robot mounted on a structural sub-frame complete with in-feed product conveyor, box-in-feed and exit roller conveyor, and safety guards. The integral in-feed conveyor is ready to install into any pre-existing production line or can receive containers directly from the blow molding machine with a minimum amount of integration.

The Proco Pakman work cell is specifically designed to pack blow molded containers into boxes in layers. The system packs containers in all necks up or all necks down pack patterns.

The system is also fitted with quick-change easy-to-install end-of-arm tooling and the control system can store job recipes for easy call-up. An optional polybag suction feature removes excess air from the box's plastic liner to facilitate cleaner and easier bottle placement.

The Pakman Packaging System offers significant labor savings and a highly favorable investment return with a payback of about 12 months. Proco Machinery has already completed a number of successful installations at custom blow molding facilities in the U.S.

About Proco Machinery Inc.
Proco Machinery Inc., based in Mississauga, ON, has been serving the plastic container industry for over 25 years, providing labor-saving automated machinery and equipment throughout the U.S. and Canada. The company manufactures a complete line of Robopik Take-out systems, Automatic Deflashers, Ultra Test Leak Testers, Flame Treaters, Dome Spin Trimmers, Robotic Packaging systems (case packers), and as well as the Multipak Packaging System (for palletizing). For more information, call (905) 670-9380 or visit www.procomachinery.com.


More from Electronic Components & Devices