Robotic Loading Systems pack individually wrapped items.
Press Release Summary: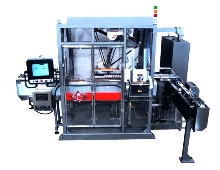 Vertical racetrack robotic loading systems consist of LJ Series Systems with carton erectors and 3-flap FCC closers to create top load packing lines, which can automate loading operations of individually wrapped products. Features include servo-driven conveyors, adjustable lug spacings with Smart Belt Technology, and either vacuum or mechanical gripper type end of arm tooling. Cartons may be filled with single, or multiple layers.
---
Original Press Release:
BRADMAN LAKE TO BUILD TOP LOAD ROBOTS

Bradman Lake has entered into a manufacturing and marketing agreement with Propack Processing & Packaging Systems Inc. of Ontario, Canada to produce their vertical racetrack robotic loading systems.

Machines will be built by Bradman Lake Ltd in Bristol for their UK and Export customers and by Bradman Lake Inc. in Charlotte, NC for the United States market.

Described by Propack as "the ultimate in flexibility", In operation, LJ Series Systems will be teamed with Bradman Lake's carton erectors and three-flap FCC closers to create high speed top load packing lines which can automate the loading operation of many individually wrapped products such as granola bars, snack cakes, chocolate bars and frozen meat portions.

The LJ Series Top Loader can interface with most wrapping machines. A servo driven infeed conveyor accepts individual wraps and transfers them into a conveyor consisting of two trains of fast indexing pockets. Each train of pockets is driven by its own servomotor. Upon filling of all its pockets, the entire train accelerates forward to the robotic loading station. The second train moves into position and repeats the same operation.

Formed cartons are automatically transferred from the Carton Erector into the LJ Series Top Loader. Side belts position the cartons into individual adjustable lug spacings using Smart Belt Technology to ensure they are correctly spaced. This spacing is maintained at product loading and helps to maintain high production efficiencies.

At the Robotic Loading Station a robot, equipped with either vacuum or mechanical gripper type end of arm tooling, is pre-programmed to pick up a designated quantity of products out of the filled pockets and place them into a predetermined line of waiting cartons. As the products are removed from their pockets by the Robot, the train automatically indexes forward to bring another set of loaded pockets into position ready for the next unloading cycle. Single, or multiple layers can be built up in the waiting cartons. Filled cartons are then automatically released into the carton lid cover closer. Smaller count retail style cartons can be produced as well as larger count display cartons incorporating upper panels pulled back to create header displays.

Graham Hayes, Chairman and CEO of Bradman Lake Group said "Cooperation with Propack in the US and Canada has already resulted in a number of actual installations and nine new orders since the beginning of the year and we are extremely encouraged by the level of interest being expressed by major multinational companies. The alliance between Propack and Bradman Lake enables us to provide a unique and complete system to our customers with many tangible advantages which include reduced carton costs, faster outputs, elimination of labor traditionally required for this type of packaging and cutting edge technology employing electronic motion control.

The big advantage for our customers is that Bradman Lake can now manufacture provide and take after sales responsibility the entire system and can integrated with the existing wrappers and final case packaging operation.

It is a very exciting opportunity "
More from Electrical Equipment & Systems