Robotic Laser Machine performs 3D metal cutting.
Press Release Summary: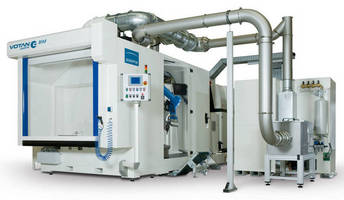 Robot-based 3D metal cutting laser machine, JENOPTIK-VOTAN® BIM, features 5 kg laser cutting head, robot arm with optical fiber located solely in stationary shoulder, and completely integrated laser beam path. During cutting process, laser light is guided via mirrors; immobility of laser fiber preserves its condition, reducing maintenance and replacement costs.
---
Original Press Release:

Jenoptik Launches 3D Metal Cutting Laser Machine at IMTS 2012.



Jenoptik will unveil JENOPTIK-VOTAN® BIM and demonstrate its latest technology breakthrough in laser metal processing at the International Manufacturing Technology Show (IMTS 2012) in booth N-6569 from September 10 to 15 at McCormick Place in Chicago, IL.

"We are excited to introduce to the US market our robot-based 3D metal cutting laser machine, JENOPTIK-VOTAN® BIM," says Christon Manzella, Vice President Business Development and Strategies at JENOPTIK Laser Technologies in the U.S. "Smartly engineered JENOPTIK-VOTAN® BIM provides industrial manufacturers a highly flexible, fast processing and cost-effective laser machine solution that carries several advantages over standard laser machines."

JENOPTIK-VOTAN® BIM's laser robot arm is unique in that the optical fiber is located only in the stationary robot shoulder and the laser beam path is totally integrated. During the cutting process the laser light is guided by means of mirrors. Due to the immobility of the laser fiber its condition is preserved, which eliminates any costly maintenance and replacement of the fiber. The slim and only five kilograms light laser cutting head also contributes to the accessibility into tight locations, high path accuracies and high speed 3D metal processing.

Additionally, Jenoptik's laser arm's axis movements are 30 to 60 percent quicker than the norm and deliver a much shorter tact time compared to conventional metal processing laser robots. In the field of 3D metal processing, Jenoptik delivers a technological competitive advantage for its customers and serves the automotive industry, white goods fabrication as well as reservoir construction.

Metal Processing with Jenoptik's Fiber Laser JenLas® fiber cw 1000.

Also to be showcased at IMTS is Jenoptik's laser source JenLas® fiber cw 1000, which is a highly brilliant single-mode high power fiber laser system, featuring high power stability and long lifetime. JenLas® fiber cw 1000 ensures a high processing speed can be maintained and consistent high productivity in the respective applications is achieved. Compared to the other laser sources such as CO2 lasers, fiber lasers are more energy-efficient and thus more cost-effective especially in such industrial applications as metal cutting and welding.

The live performance of the robot system, the core part of the laser machine JENOPTIK-VOTAN® BIM can be seen at IMTS, booth N-6569. For more detailed information, please visit: http://www.jenoptik.com/laser-metal-cutting.

About the Jenoptik Lasers & Material Processing division

The Lasers & Material Processing division has control of the entire value-added chain of laser material processing and it is one of the leading providers - from component through to complete system. In the area of laser, Jenoptik has specialized in high-quality semiconductor materials and reliable diode lasers as well as innovative solid-state lasers, for example disk and fiber lasers. In the area of high-power diode lasers Jenoptik is acknowledged worldwide as a leader in quality for high-power diode lasers. These laser sources are used, among other things, in the areas of laser material processing, medical technology and show & entertainment. In the area of laser processing systems we develop systems that are integrated into production facilities for our customers as part of their process optimization and automation. These systems enable our customers to work with plastics, metals, glass and thin-film solar cells with maximum efficiency, precision and safety.

More from Electrical Equipment & Systems