Robotic Lance Blasting System natively supports 2 grit sizes.
Press Release Summary: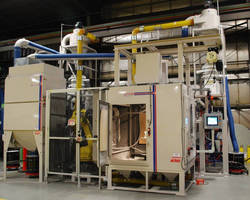 With extended lance nozzle, robotic blast system handles precision grit blasting and surface preparation of IDs of industrial gas turbine components in manufacturing and repair operations. Features include Fanuc M-710iC robot as lance manipulator, process chamber with servomotor-driven rotary table, and touchscreen HMI. Media reclamation and delivery system for 2 different grit sizes supports processing of components with different surface roughness specifications; change-over takes <5 min.
---
Original Press Release:

Robotic Lance Blasting System



Saratoga Springs, NY — Guyson Corporation has designed and built a robotic blast system with an extended lance nozzle for precision grit blasting and surface preparation of the inside diameters of industrial gas turbine components in manufacturing and repair operations.



A Fanuc M-710iC robot is integrated into the blast system as the lance manipulator in an expanded process chamber with a servomotor-driven rotary table that is controlled as an auxiliary axis of robotic motion. The blasting enclosure is fabricated with an added rear vestibule to allow room for full movement of the pressure-blast lance as the robot follows the tool path required for coverage of complex-shaped internal surfaces, constantly maintaining the correct nozzle angle, offset and surface speed to produce the specified profile.



To enable processing of components with different surface roughness specifications, the custom blast machine is designed with an enhanced media reclamation and delivery system for two different grit sizes, including a separate cyclone separator, classifier and pressure pot for each. The change-over from one grit size to the other is accomplished in less than 5 minutes, and the selected media, as well as the status of all valves and elements of the media delivery system is automatically detected and displayed at the touch screen human-machine interface (HMI).



A 500-pound-capacity jib hoist is mounted over the crane slot in the roof of the blast cabinet to facilitate safe and convenient loading of heavy work pieces. Custom-designed interchangeable fixtures with locator pins and quick-change hardware accurately secure the work in the correct position for repeatable robotic blasting.



In addition to the full width loading door at the front of the cabinet, smaller doors are provided on both sides of the blast chamber to allow easy access for inspection and maintenance. The interior of the cabinet is lined with bonded rubber sheathing to provide abrasion resistance. A sheet rubber curtain can be hung over the view windows on all doors to prevent frosting by harsh abrasive grit media.



The robot motion program was created using customer-supplied solid models of the components and fixtures. The entire blast system was also solid modeled and all the data brought together using advanced offline robot programming software to generate the robot tool path. Nozzle stand-off, lead and lag can thus be adjusted with a quick parameter change. This method of program development offers a time advantage over teach pendant programming, and for robotic blast systems in production use, the benefit of not idling the machine.



Prospective users of automated or robotic blasting equipment are invited to submit sample components for free laboratory testing and application engineering evaluation at the blast machinery manufacturer's factory in northeastern New York State.



CONTACT FOR ADDITIONAL DATA: 

J. C. Carson

Guyson Corporation

Saratoga Springs, NY



Tel: 518-587-7894, ext. 7226   jcarson@guyson.com



GUYSON ROBOTIC LANCE BLASTING SYSTEM



Relevant URL:  http://www.guyson.com/robotics/robotic-nozzle-manipulation/

More from Services