Robotic Knife Trimming System offers turnkey operation.
Press Release Summary: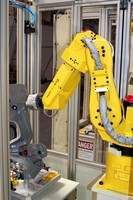 Trimming parts up to 24 x 24 x 30 in. via automated process, RoboKnife(TM) RT-200 promotes part quality while reducing scrap and injuries. System incorporates riser-mounted robot and servo-controlled rotating fixture table in 3 x 9.5 ft footprint and features single-base construction for portability. Lending flexibility to plastics manufacturers' trimming processes, knife compensates for part shrinkage and expansion while also providing compliance needed to produce optimal edge quality.
---
Original Press Release:

KMT Introduces the RoboKnife RT-200



KMT Robotic Solutions Introduces the RoboKnife(TM) RT-200 - The Flexible, Turnkey Robotic Knife Trimming System for Plastics Manufacturers

AUBURN HILLS, Mich. Nov. 19, 2007 - KMT Robotic Solutions introduced today the RoboKnife(TM) RT-200 - the plastics industry's first portable, cost effective turnkey robotic knife trimming solution that improves part quality, reduces scrap and decreases workplace injuries.

"The RoboKnife trimming system offers manufacturers exceptional flexibility in their trimming processes and significantly reduces operating expenses," said Christopher Lutz, KMT Robotic Solutions Inc. vice president of sales and marketing.

The RoboKnife RT-200 provides plastics manufacturers with many production advantages. The RT-200's process repeatability enables it to continuously produce quality parts, which results in reduced scrap. The system's compact size allows for more room on the production floor, while its single-base construction allows it to be moved easily between molding machines. The RoboKnife RT-200 is easy to install and maintain, resulting in increased production time. Because it removes sharp blades from the hands of employees, the RT-200's automated trimming process reduces common workplace injuries like carpal tunnel syndrome, shoulder, elbow and back pain.

The compact, 3-foot-wide, 9.5-foot-deep system features a riser-mounted robot and a servo-controlled rotating fixture table that enable it to trim parts up to 24 inches long, 24 inches wide and 30 inches tall. The patented compliant knife compensates for the part shrinkage and expansion typical of blowmolded, rotocast and thermoformed parts, and provides the compliance needed to produce exceptional edge quality along curved or 90-degree-angle parting lines. The system can also be equipped with an ultrasonic knife or small routing spindle for even greater trimming flexibility.

KMT Robotic Solutions was formed in December of 2006 with the union of KMT Cutting Systems in Ronneby, Sweden and Robotic Production Technology in Auburn Hills, Mich. KMT Robotic Solutions has more than 1500 systems installed around the world and more than 30 years experience developing, designing, building, servicing and supporting robotic automation solutions for manufacturing customers. With locations in Europe, the US and China, KMT is strategically positioned to serve the global market.

Janine Krasicky
President
J9 Media Solutions, LLC
248.542.3991
janine@j9media.com
www.j9media.com

Related