Robotic Gripper targets laboratory applications.
Press Release Summary: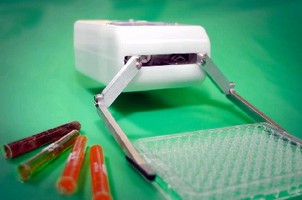 Scalable for use in variety of industries and applications, stepper-based Smart Gripper 2.0 features fail safe brake system, accurate robotic finger positioning, and adjustable grip force without need for software or controllers. Programmable unit can be integrated with most robots and is designed specifically for micro plate handling. Operating using 24 Vdc discrete signals, gripper enables up to 32 programs to be selected using 5 discrete input lines.
---
Original Press Release:

Applied Robotics Introduces New Smart Gripper for Lab Applications



Applied Robotics' Smart Gripper 2.0 Designed to Increase Laboratory Efficiency & Flexibility

Greenville, New York - July 9, 2007 - Applied Robotics Inc., a leading global manufacturer of robotic end-of-arm tooling and connectivity solutions, today announced the introduction of its new smart gripper. The Smart Gripper 2.0, designed for use in a laboratory setting to increase efficiency and flexibility, is also easily scalable for use in a variety of other industries and applications. The gripper features accurate robotic finger positioning, adjustable grip force, easy integration and requires no proprietary software or controllers.

"Our laboratory customers' stringent requirements were our highest priority in the design process for the Smart Gripper," said Jim Fitzgerald, Vice president of Applied Robotics Inc. "The Smart Gripper can be used with any robot controller allowing laboratories to meet and exceed any application challenge."

Applied Robotics' Smart Gripper is the only small stepper based gripper available that can be integrated with most commercially available robots and the only programmable gripper designed specifically for micro plate handling. It features interchangeable fingers to hold or carry micro plates (in either landscape or portrait orientation), test tubes and other media. Using a universal operating platform and accurate positioning of robotic fingers, the new gripper brings precision and flexibility to applications and increases laboratory efficiency. Its fingers can be designed by the user, or provided by Applied Robotics, Inc. The gripper is operated using 24Vdc discrete signals for use with any robot controller. The user pre-programs motions into the servo gripper's non-volatile memory for later recall triggered by the robot controller's discrete output lines. Up to 32 programs can be selected using the gripper's five discrete input lines. The patent pending gripper also features a fail safe brake system which prevents it from dropping objects and its driveline consists of an extremely precise and lightweight synchronous timing belt.

Applied Robotics Inc., headquartered in Glenville, N.Y., is an ISO-9001 registered, employee-owned company serving the world's automation market. Founded in 1983, Applied Robotics designs and manufactures end-or-arm tooling and connectivity solutions intended to solve complex automation problems and improve efficiencies. Serving a wide spectrum of customers and industries ranging from large Fortune 500 companies to small privately-held businesses, the company's wrist-down solutions can be found in manufacturing, welding, assembly, material removal and material handling applications throughout the United States, Canada, Pacific Rim, Europe, Mexico, South America and Australia. More information can be found on the company's website at www.arobotics.com.

Applied Robotics and the Applied Robotics logo are trademarks of Applied Robotics Inc. All other trademarks are owned by their respective companies.

Press and Industry Analysts
Joanne Brown
Marketing Coordinator
518.384.1000 (voice)
518.384.1200 (fax)
jbrown@arobotics.com

For more information please contact Joanne Brown at jbrown@arobotics.com.

More from Electronic Components & Devices