Robot suits high-speed assembly applications.
Press Release Summary: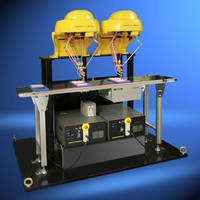 Model M-1iA intelligent assembly robot is 17 kg, compact 6-axis robot suited for small part handling, high-speed picking, and assembly applications. Parallel-link structure maximizes speed and accuracy and robot includes 3-axis wrist. Unit operates via R-30iA controller with integrated functions such as iRVision®, Robot Link, and Collision Guard. It is also available as 4-axis model, for part picking and kitting, with single-axis wrist offering speeds up to 3,000°/sec.
---
Original Press Release:

FANUC Robotics America Inc. Today Introduced the New M-1ia Intelligent Assembly Robot



FANUC Robotics Introduces M-1iA Intelligent, High-Speed Assembly Robot at 2009 Robots & Vision Show

ROCHESTER HILLS, Mich., June 9, 2009 - FANUC Robotics America Inc. today introduced the new M-1iA intelligent assembly robot at the 2009 International Robots & Vision Motion Control Show held at the Donald E. Stephens Convention Center in Rosemont (Chicago), IL June 9-11, booth #1411.

The M-1iA is a lightweight and compact six-axis, parallel-link robot designed for small part handling, high-speed picking and assembly applications. The unique parallel-link structure provides higher speeds and accuracy compared to traditional assembly robots. The robot can be installed in a variety of orientations, and has a three-axis wrist, making it extremely flexible.

The M-1iA also offers a four-axis model for simple assembly operations such as part picking for kitting. A single-axis wrist offers speeds up to 3000 degrees per second.

"Assembly customers require higher speeds and accuracy to meet their production goals," said Nishant Jhaveri, product manager, FANUC Robotics America, Inc. "The M-1iA's flexibility and speed far exceed the capabilities of other vertically-articulated or SCARA-type robots."

The M-1iA, like all FANUC robots, operates with the company's latest R-30iA controller with integrated intelligent functions such as iRVision®, Robot Link, and Collision Guard.

At the show, two M-1iA robots equipped with iRVision 2D will assemble and disassemble a 10-key keyboard at high speeds. "This robot is well-suited to precise assembly applications, even the most complex," added Jhaveri.

The M-1iA offers a wide range of benefits, including:

o Lightweight (17kg for 6-axis model), compact size allows operation in small spaces.

o Six-axis design enables part feeding from the sides of a work zone, increasing the useable workspace.

o Multiple installation orientations accommodate a wide range of work areas.

o Unique parallel-link design maximizes speed.

o Can be separated from its stand, allowing easy integration into a machine.

o A camera for iRVision (built-in) can be integrated into the robot.

o New R-30iA Mate rack-style controller provides intelligent robot functions.

o Collision Guard detects robot collisions with external objects, minimizing damage to the part and robot.

o Robot Link controls and coordinates up to ten robots through a network exchange of robot positional data.

Integrated (built-in) Vision

The FANUC iRVision system is a ready-to-use robotic vision package, available on all FANUC robots, requiring only a camera and cable - no additional processing hardware. It has a 2D robot guidance tool to accomplish part location, error proofing, and other operations that normally require special sensors or custom fixtures. For robotic vision processes that exceed the capability of 2D vision systems, FANUC Robotics offers an integrated 3D vision system.

FANUC Robotics America, Inc. designs, engineers and manufactures industrial robots and robotic systems for a wide range of applications including arc and spot welding, material handling (machine tending, picking, packing, palletizing), material removal, assembly, paint finishing and dispensing. The company also provides application-specific software, controls, vision products, and complete support services. After 27 years of success, FANUC Robotics maintains its position as the leading robotics company in the Americas. A subsidiary of FANUC LTD in Japan, the company is headquartered in Detroit, and has facilities in Chicago; Los Angeles; Charlotte, N.C.; Cincinnati and Toledo, Ohio; Toronto; Montreal; Aguascalientes, Mexico; and Sao Paulo, Brazil. Over 200,000 FANUC robots are installed worldwide. Contact FANUC Robotics at www.fanucrobotics.com or by calling 1-800-iQ-ROBOT, option 5.

More from Electronic Components & Devices