Robot Controller includes ergonomic teach pendant.
Press Release Summary: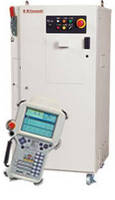 Kawasaki D Series Controller features CPU with multiple processors, with processing speed between CPU and digital servo drives suitable for optimizing motion control. High-speed signal monitoring of E-stop and collision detection circuits minimizes risk of system failure. Product supports any network communications protocol, and uses K-Logic sequencer for configuration without external PLC. Incorporating teach pendant interface touchscreen, unit allows control of up to 16 axes.
---
Original Press Release:

D Series Controller



New Technically Advanced "D" Controller

Key Features

The new Kawasaki "D" Controller is a result of the culmination of years of Kawasaki engineering and application excellence. This advanced technology robot controller is loaded with new features, software, and functions, while maintaining Kawasaki's "Simple & Friendly" design.

Kawasaki understands that the controller is the heart of any robotic application, and the success of a project is often measured by the ease in which the system is set-up, integrated, programmed, and maintained, as well as its flexibility for change during production. The new 'D' Controller was carefully designed to meet these objectives, providing a completely new, ultra-ergonomic teach pendant and an expandable controller design allowing customization to meet even the most demanding applications.

Special Features:

Processing capability is optimized via a state-of-the-art CPU with multi processors. Improved processing speed between the CPU and Kawasaki's fully digital servo drives has resulted in increased motion control performance, such as path speed and accuracy. This rapid processing speed reduces the risk of a system failure through high speed signal monitoring of E-stop and collision detection circuits, while also improving path recovery after resetting the system.

Even though the new D Controller has more features and capabilities than previous models, the simple and powerful programming language is the same as previous Kawasaki controllers, allowing for an easy transition for the user. Network communications have been expanded to allow the use of most any protocol to be easily utilized with the robot system. Kawasaki's introduction of K-Logic, a new built-in sequencer, makes it possible to configure a highly advanced control system without the additional cost of adding an external PLC. Features like Multi-Axis control (up to 16 axes), customizable teach pendant interface screens, Ethernet capabilities, advanced peripheral equipment control, numerous application software options, remote diagnostics, modular components for easy maintenance, and numerous others are a result of Kawasaki's continued role as a leader in industrial robot technology.

New Teach Pendant:

o Ergonomic design

o Improved key arrangement and quicker key response

o Large, easy-to-read, color, LCD touch screen

o Customizable interface screens

More from Packaging Products & Equipment