Road Ranger Mobile Anchor features fall arrest system.
Press Release Summary: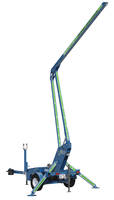 Engineered with steel and aluminum combination, Road Ranger Mobile Anchor offers superior strength to weight ratio and covers 18 to 22 feet height. Providing battery driven set-up, compact design and single plane erection, unit permits 30 degree work angle in all directions with 310 pounds weight capacity. Featuring 900 pounds of maximum arresting force, anchor is suitable for use in tight spaces, railroad cars, aircraft, and industrial equipment.
---
Original Press Release:
Gorbel to Introduce New Mobile Fall Protection Unit
The Road Ranger Mobile Anchor is Highway Rated to 65 mph
Gorbel, a leading manufacturer of material handling and fall protection solutions, today announced the introduction of its new mobile fall protection unit, the Road Ranger Mobile Anchor, during National Safety Congress in Anaheim from October 17-19 at the Anaheim Convention Center.
Like the traditional Ranger Mobile Anchor, the new Road Ranger can be quickly attached to a forklift, truck, or other related towing device and can also be maneuvered so that the anchorage point is positioned directly above the work area as the job is performed. The one key difference with the Road Ranger is that it's rated for highway towing up to 65 mph. Used in conjunction with a full body harness and retractable lanyard, the Ranger Mobile Anchor provides a complete fall arrest system "on the go," ideal for use when maintaining aircraft, railroad cars, industrial equipment, or heavy machinery.
"This mobile unit allows workers to continue their commitment to safety regardless of where the work is being done. Whether it be maintaining an aircraft, working on or around heavy equipment and machinery, or within any unique working environment, the Ranger Mobile Anchor provides safe and secure fall protection," said Jeff McNeil, Gorbel Marketing Manager.
Engineered with a combination of steel and aluminum components for a superior strength to weight ratio, the Ranger Mobile Anchor covers heights from 18 to 22 feet to address a wide range of jobs. The unit's battery-driven powered set-up allows for use within moments, reducing strain on workers during both erection and dismantling. Its compact design and single-plane erection allows for use in tight spaces and can be used in indoor and outdoor environments.
The unit permits for a 30 degree work angle in all directions, has a maximum weight capacity of 310 pounds, a maximum arresting force of 900 pounds, meets all OSHA regulations, and is made in the USA. The Road Ranger Mobile Anchor is the latest product in the TetherTrack™ offering of fall protection systems. TetherTrack™ engineered fall arrest anchor points have been installed in locations throughout North America to provide superior fall arrest based on the environment and work being performed. Industries from transportation to agriculture rely on TetherTrack™ for maximum protection at heights while maintaining productivity.
For more information on Gorbel Fall Protection Solutions, visit www.gorbel.com or call 800-821-0086.
Gorbel: A Class Above®
Gorbel® is an innovator and leader in the enclosed track work station crane industry. The company provides a wide variety of overhead handling solutions that handle loads from 50 lbs. up to 40 tons. In addition to cranes, the company delivers innovative fall arrest systems, jibs and intelligent lifting devices. Since 1977, Gorbel has been dedicated to providing high-quality overhead material handling solutions backed by a commitment to on-time delivery, a focus on customer service and the industry's best warranty.
Media Contacts:
Susan Griepsma,
Marketing Coordinator
Telephone: 585-924-6733