RNA Isolation Kit uses no xylene or other toxic solvents.
Press Release Summary: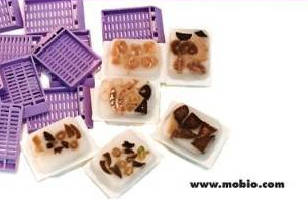 BiOstic® FFPE Tissue RNA Isolation Kit features efficient protocol which includes complete lysis and extraction of total RNA from formalin-fixed, paraffin-embedded tissues without use of toxic organic solvents. Room Temperature Stable DNAse ensures best DNA removal, while proprietary low elution spin filter delivers highly concentrated RNA that is ready to use in RT-PCR, RT-qPCR, microarrays, or next generation sequencing.
---
Original Press Release:

MO BIO Laboratories, Inc. Launches a New Kit for FFPE Tissue RNA Isolation



CARLSBAD, Calif., -- MO BIO Laboratories, Inc., the leader in microbial, stool, plant, and soil nucleic acid purification, announces the launch of the BiOstic® FFPE Tissue RNA Isolation Kit. This newest kit features a very efficient protocol which includes complete lysis and extraction of total RNA from formalin-fixed, paraffin-embedded tissues without the use of toxic organic solvents.



The BiOstic® FFPE Tissue RNA Isolation Kit builds upon MO BIO's expertise in extracting nucleic acids from challenging samples such as in the previous BiOstic® FFPE Tissue DNA Isolation Kit. This latest kit has unique attributes, unmatched in other commercially available kits such as a Room Temperature Stable DNAse that ensures the best DNA removal, and a proprietary new low elution spin filter, that delivers highly concentrated RNA that is ready to use in RT-PCR, RT-qPCR, microarrays or next generation sequencing.



Features of the BiOstic® FFPE Tissue RNA Isolation Kit include:



--  No xylene or other toxic solvents for fast and safe paraffin removal

--  Higher yields and concentration - The new and unique low elution spin filter enables high recovery efficiency in only 20 µl

--  Successful amplification thanks to contaminant and cross-link free RNA samples



The BiOstic® FFPE Tissue RNA Isolation Kit is available now. For more information, visit the MO BIO website (http://www.mobio.com/ffpe-rna)  or call 800-606-6246.



MO BIO Laboratories, Inc. (www.mobio.com)  has developed innovative tools for researchers in molecular biology since 1993. A global leader in solutions for soil and microbial nucleic acid purification, MO BIO's Power kits contain patented Inhibitor Removal Technology® for removal of PCR inhibiting substances during the nucleic acid purification procedure. For clinical samples, the BiOstic® kits provide solutions for higher yields and purity of nucleic acids. At MO BIO Laboratories, Inc., our focus is quality products that work, save time and function for all sample types, not just the easy ones. It is MO BIO's aim to make researchers' working lives more productive and efficient, creating time to focus on what is critical, not just in work, but in life.



CONTACT: Sandrine Miller, Director of Sales and Marketing, MO BIO Laboratories, Inc., 760-929-9911

More from Machinery & Machining Tools