Rite-Hite Introduces LiteSpeed Cleanroom Door with TRUE Auto Re-Feed Technology
Press Release Summary: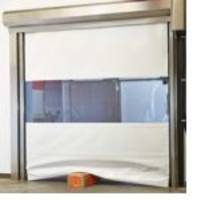 The LiteSpeed™ Cleanroom Door is made of tough PVC vinyl curtain with a stainless steel frame in tapered design. The door is offered in roll-up design and maintains a room-to-room pressure differentials of up to 0.2 InWC. The product is operated at speeds of 65 in./sec and features a 7 in. LCD touchscreen graphic user interface. The TRUE Auto re-feed™ technology automatically reconfigures the door back on its track when it is bumped or impacted.
---
Original Press Release:
Litespeed™ Cleanroom Door Designed for Hygienic Operations
High-speed, upward-acting Rite-Hite door ideal for pharmaceutical industry
MILWAUKEE – Rite-Hite's new LiteSpeed Cleanroom door offers a high-speed solution to operations that demand cleanroom environments. Meeting Good Manufacturing Practices and guidelines set forth by the Food & Drug Administration, this door delivers cleanroom integrity, reliability and safety.
The LiteSpeed Cleanroom door is made from a tough PVC vinyl curtain that operates on a stainless steel frame. All stainless steel surfaces have a tapered design that makes it more resistant to collecting dust than flat surfaces. It can maintain room-to-room pressure differentials of up to 0.2 InWC with its tight seal. The roll-up design translates into a smaller physical footprint and peak operating speeds of 65 inches/second with its powerful, yet quiet, 1 HP motor. A 7-inch LCD touchscreen graphic user interface allows simple trouble shooting at the door opening.
Without any hidden metal or rigid supports and Soft Break-Away™ technology, the fabric LiteSpeed Cleanroom delivers a safe high-speed experience. Using available safety presence sensors and an LED Countdown, personnel working near the door are likely to avoid a collision. However, if the LiteSpeed Cleanroom is bumped or impacted, the TRUE Auto Re-feed™ will automatically reconfigure the door back on its tracks. This eliminates a potential breach in a clean room environment and the downtime and costs associated with repairing a traditional door.
Additional safety features include a standard full-width vision panel to allow workers to see what's on the other side of the door and optional Virtual Vision, which uses presence-sensing technology to alert workers if someone is approaching from the other side of the door.
About Rite-Hite
Rite-Hite is a leading manufacturer of material handling systems designed for maximum safety and productivity. Principal product lines include trailer restraints, dock levelers, integrated controls, dock seals and shelters, industrial power doors, fabric curtain walls, HVLS Fans and aftermarket products and services. For more information, visit RiteHite.com or call 1-800-456-0600.
MEDIA CONTACT for ThomasNet
Andy Larsen
414/271-0101 x119 (o); 414/840-0891 (m)
More from Architectural & Civil Engineering Products