Rio Mar Mall in Fortaleza Built on PENETRON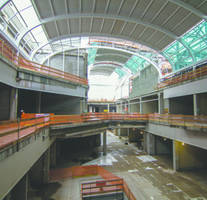 EAST SETAUKET, N.Y. (PRWEB) JULY 11, 2018 - The June 2018 grand re-opening of a modernized and expanded Shopping Rio Mar in Fortaleza, Brazil, was the latest in a string of PENETRON ADMIX-treated projects to ensure a durable concrete water storage infrastructure for safe drinking water.
After the success of the Recife shopping mall project, the JCPM Group invested almost US$ 230 million to upgrade and complete their newest shopping mall, Shopping Rio Mar, in Fortaleza. The dimensions of this project were similar to Recife; the 114,000 m2 (1.25 million square feet) Fortaleza construction site was secured with 4,000 piles driven into the soil before construction could begin. Today it offers shoppers access to no less than 385 stores, including movie cinemas and food courts.
"Like Recife, the Fortaleza shopping mall also specified PENTRON ADMIX to treat the facility water tanks," adds Cláudio Neves Ourives, Executive Director of Penetron Brazil. "For the water tanks, our admixture completely eliminates the need for traditional waterproofing systems, such as membranes and coatings; it's also completely non-toxic."
A Step Towards Sustainability 
While concrete is not usually thought of as an obviously "green" product, eliminating liners and membranes as a waterproofing solution is a step in the right direction. Just as importantly, extending the life of concrete structures (and avoiding costly repairs) by ensuring it is impermeable to chemical attack, and offering a technology that is completely non-toxic and free of volatile organic compounds (VOC), proves how Penetron products are ideal for potable water applications like the Shopping Rio Mar project.
"All Penetron products are tested by environmental labs and are green-label certified to help construction projects conform to international green building standards," adds Cláudio Neves Ourives.
Integral Waterproofing for Durability 
PENETRON ADMIX was used to treat over 1,200 m3 (1,570 cubic yards) of concrete for both the underground and rooftop water reservoirs at Rio Mar. About 1,000 m of PENEBAR SW waterstop strips were used to permanently seal the construction joints. The reservoirs are located on the rooftop and underground; they supply all drinking water needs for the shopping mall and its food courts.
"The integral Penetron technology enables the structural element of the concrete to function as a sealing element as well, keeping the water safe from any outside influences and adding to the durability of the tanks," says Cláudio Neves Ourives. "This is why we can say – Penetron greatly enhances the service life of the concrete structures."
The Penetron Group is a leading manufacturer of specialty construction products for concrete waterproofing, concrete repairs and floor preparation systems. The Group operates through a global network, offering support to the design and construction community through its regional offices, representatives and distribution channels.
For more information on Penetron waterproofing solutions, please visit penetron.com or Facebook.com/ThePenetronGroup, email CRDept@penetron.com, or contact the Corporate Relations Department at 631-941-9700.
More from Electrical Equipment & Systems