Right Angle Worm Gearboxes are durably constructed of aluminum.
Press Release Summary: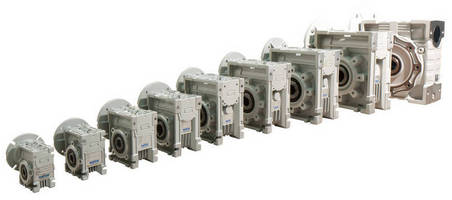 Available in 6 sizes with 4 input flange options, NEMA gearboxes offer input power from 1/15-10 hp and torque from 5-6,000 lb-in. IEC configurations, available in 9 sizes and 14 input flange options, offer input power range of 0.06-7.5 kW and torque range of 5-10,000 lb-in. Both series are available with 12 ratio options from 5:1-100:1 and offer double tapered roller bearings on select models. Other features include standard hollow output with plug-in shaft (single or double) options.
---
Original Press Release:

Aluminum Right Angle Worm Gearbox Line is a Lightweight, Cost Effective Alternative



Excellent Performance, Robust Design are two main features for gearbox line.

Transtecno Group introduces its line of IEC and NEMA aluminum worm gearboxes that offer excellent performance, lightweight, cost effective alternative to other worm gearboxes.

"Our 9 sizes of right angle worm gearboxes have been thoroughly tested and designed to be an aluminum option to the OEM or engineer looking for a cost competitive, lightweight, strong, efficient gearbox" said Alex Aposkitis North American Markets Manager at the Transtecno Group Headquarters in Bologna, Italy. Aposkitis added "We were highly satisfied with the test results, the performances and durability is better than we expected!"

Transtecno has both NEMA and IEC configurations available:
NEMA right angle gearboxes have the following characteristics:

6 sizes - CM40, CM50, CM63, CM75, CM90 and CM110

4 NEMA input flange options - 56C, 140TC, 180TC, 210TC

Input Power Range - 1/15 HP - 10HP

Torque Range - 5 in-lbs - 6,000 in-lbs

12 ratio options - 5:1 - 100:1

Double tapered roller bearings on CM90 and CM110

IEC right angle gearboxes have the following characteristics:

9 Sizes - CM26, CM30, CM40 CM50, CM63, CM75, CM90, CM110 and CM130

14 IEC Input flange options - 56B5, 56B14, 63B5, 63B14, 71B5, 71B14, 80B5, 80B14, 90B5, 90B14, 100/112B5, 100/112B14, 132B5 and 132B14

Input Power Range - 0.06kW - 7.5kW

Torque Range - 5 in-lbs - 10,000 in-lbs

12 Ratio options - 5:1 - 100:1

Double tapered roller bearings on CM90, CM110 and CM130

Both NEMA and IEC gearboxes have the following features:

Hollow output standard with plug-in shaft options (single or double shaft)

Multiple mounting configurations

Versatile, compact design

High-quality, lightweight aluminum construction without plugs

2 RZ roller bearings on worm shaft

Polyacrilic input oil seal

Options for foot, flange, shaft or torque arm mounting

Permanent synthetic lubrication for a completely maintenance free gearbox

Precision machined worm gear and worm shaft provide quiet operation and premium efficiency

Corrosion free powder coat finish

"We are very excited about our right angle worm gearboxes and the potential they have in the North American market" said Jon Roetman, North American Sales Manager. "In addition to the gearboxes we have a full line of DC motors that we can combine with these gearboxes to offer a complete gearmotor solution." Added Roetman

For more information go to www.transtecno.com or contact Jon Roetman, North American Sales Office at usaoffice@transtecno.com or call 712-540-9080

More from Test & Measurement