Right Angle Mirrors serve system alignment applications.
Press Release Summary: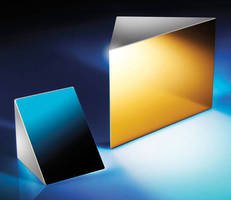 Reflecting light at 90°, TECHSPEC® Right Angle Mirrors feature N-BK7 substrates and come in 39 size/coating combinations. Aluminum coating is multi-layer dielectric film on top aluminum to enhance reflectance in visible wavelength region. Protected gold coatings, providing 96% reflectivity from 750–1,500 nm, are offered with silicon monoxide overcoat. Delivering reflectivity of >99% from 500–800 nm, protected silver coatings are suited for broadband sources.
---
Original Press Release:

TECHSPEC® Right Angle Mirrors Ideal for System Alignment Applications



Enhanced aluminum, protected gold and silver coatings provide high reflectance values



Barrington, N.J. - Edmund Optics (EO), the premier provider of optical components, introduces its new TECHSPEC® Right Angle Mirrors. These mirrors feature enhanced aluminum, protected silver and protected gold metallic coatings. They are ideal for a wide variety of applications requiring precision alignment and high performance, including system alignment.



Reflects light at 90°

Right Angle Mirrors

Click on image to download high resolution version



TECHSPEC Right Angle Mirrors reflect incident light at 90°, making them an essential part of many optical systems.



The specialty mirrors are easy to mount, and feature N-BK7 substrates. Available in 39 different size/coating combinations, each TECHSPEC Right Angle Mirror features a high quality metallic coating to provide high reflectance values.



The enhanced aluminum coating is a multi-layer dielectric film on top of aluminum to enhance reflectance in the visible wavelength region. Protected gold coatings are ideal for NIR and IR applications, which provide 96% reflectivity from 750-1500 nm. Gold coatings are offered with a silicon monoxide overcoat for a more durable finish and ease of handling. Protected silver coatings deliver excellent reflectivity of greater than 99% from 500-800 nm, making them ideal for broadband sources that span multiple spectra. A protective coating reduces any silver tarnishing and is ideally suited for low humidity environments.



TECHSPEC Right Angle Mirrors are in stock and available for immediate delivery for fast turnaround and excellent value.



About EO:

Edmund Optics® (EO) is a leading producer of optics, imaging, and photonics technology for R&D, electronics, semiconductor, pharmaceutical, biomedical, and military markets around the globe. EO is the world's largest supplier of off-the-shelf optical components. Customers can purchase items by contacting EO at 1-800-363-1992, via the catalog, or via the website at www.edmundoptics.com



Company Contact:

Kirsten Bjork-Jones

Director Global Marketing Communications

Edmund Optics®, Inc.

101 East Gloucester Pike

Barrington, NJ 08007 U.S.A.

Phone: 1-800-363-1992

Fax: 1-856-573-6295

email: kbjork-jones@edmundoptics.com

More from Packaging Products & Equipment