Right Angle Gearmotors offer 1/8 hp from 4 in. dia package.
Press Release Summary: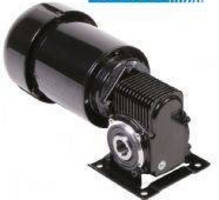 Mated to 750 Series right angle gearing, 100 mm AC Right Angle Gearmotors offer 12-104 lb-in. continuous torque from compact package with 3-wire reversible hookup and various mechanical options. Series is powered by 115 V, 60 Hz single-phase TEFC permanent split capacitor motors and offered in 6 standard versions with gear ratios from 5.2:1-50:1 and fixed output speeds from 327-28 rpm. Continuous output torques are available from 12-104 lb-in.
---
Original Press Release:

New Right Angle Gearmotors Powered by 3-Wire Reversible, 30% Smaller 100mm AC Motors



Bison Gear's new 4" dia. 1/8 hp (93w) motors offer up to 104 in-lbs (11.8 N-m) continuous torque in versatile mechanical configuration.

Bison Gear's New 100mm Right Angle AC Gearmotors Offer Big Power in a Small Package

St. Charles, IL - As OEM equipment becomes smaller in size, while output power requirements increase, gearmotor and electric motor manufacturer, Bison Gear & Engineering Corp. introduces its new 100mm AC motor line offering 1/8 hp (93w) in 30% less volume than previously available. The new 4" diameter single phase motors have now been mated to Bison's extremely versatile 750 Series right angle gearing to offer up to 104 in-lbs (11.8 N-m) of continuous torque in a compact package with simple 3-wire reversible hookup and a wide variety of mechanical options.

Bison's new 100mm AC Right Angle Gearmotors are powered by these 115 volt, 60 Hz single-phase TEFC permanent split capacitor motors and offered in six standard versions with gear ratios from 5.2:1 to 50:1 and fixed output speeds from 327 to 28 RPM respectively. Continuous output torques range from 12 to 104 in-lbs (1.4 to 11.8 N-m). The gearmotors are available in an easy-to-mount 3/4" (19mm) hollow shaft configuration, or can use quickly replaceable single or double output stub shafts and can be either foot or face mounted. In addition, a convenient rear motor shaft extension can be fitted with an optional power-off brake.

Ideally suited for packaging equipment, conveyor systems, foodservice and stationary agricultural equipment, and other specialty machinery applications, the six new 100mm AC Right Angle products are supported by Bison Gear's In-Stock, Instant-Ship (ISIS) program that supports Bison's distribution partners and offers same day shipment for orders received before noon (Central Time).

"We believe these compact, high output AC motor designs will find many new applications where space is at a premium, but where motor power cannot be sacrificed," said Robert Lewton, electrical design engineer at Bison Gear. "This right angle gearmotor offering is the second family of Bison products to benefit from the new 100mm AC motors. This being Bison's 50th anniversary year, we will continue to expand this innovative new 100mm AC product line and we will follow that up as well with other exciting new products from Bison this year."

The new 100mm AC Right Angle Gearmotors are American-made to Bison's high quality standards in its suburban Chicago facility in order to ensure reliable, long-life operation and a short supply chain for North American customers. In addition, Bison's Innopreneurial(TM) application and design engineering capabilities to customize the standard models to meet specific OEM needs are readily available.

About Bison Gear & Engineering Corp.
Celebrating its 50th Anniversary, Bison Gear & Engineering Corp. designs and manufactures fractional horsepower electric motors, gearmotors and gear reducers used in industrial and commercial OEM applications worldwide. Bison's strong engineering tradition, based on Robusticity(TM) principles, offers products with up to twice as much torque in the same package size as competitors. Bison's St. Charles, Illinois integrated production facility manufactures gearmotors and reducers in parallel shaft and right angle configurations, as well as AC and DC electric motors, for applications where dependability and long lifetimes are important. BisonGear.com


More from Chemicals & Gases