Rigaku Analytical Devices to Present Latest Handheld Raman Enhancements for Explosives Analysis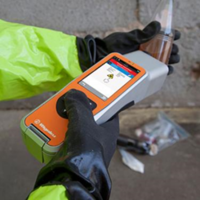 Latest handheld technology from Rigaku for rapid chemical identification of unknown substances will be featured at upcoming conference focusing on homeland defense.
ALEXANDRIA, VA. - NOVEMBER 14, 2017 - Rigaku Corporation is pleased to announce that Rigaku Analytical Devices, a leading provider of innovative handheld Raman spectrometers, is a presenter at the EOD/IED & Countermine Symposium. The event, hosted by the Defense Strategies Institute (DSI), takes place at the Mary M. Gates Learning Center in Alexandria, VA USA, from November 14-15, 2017.
The event brings together various homeland defense groups, including federal agencies, bomb technicians and industry representatives.
Rigaku will host an informative session entitled, ""Advantages of 1064 nm Handheld Raman for Chemical and Explosives Identification" presented by Nancy Otto, National Sales Manager, Rigaku Analytical Devices. The presentation will offer solutions for identifying explosives, chemical warfare agents, precursors, toxic chemicals, narcotics and more. With the use of a handheld 1064 nm Rigaku Progeny ResQ spectrometer, first responders have the ability to bring analytical technology to the point of need, which minimizes the impact of hazmat incidences, terrorist threats and drug trafficking.
To find out more about the capabilities of the MIL-STD 810G certified Progeny ResQ analyzer with 24/7 reachback support, please visit the Rigaku Analytical Devices team at the aforementioned event or visit http://www.Rigaku.com/ResQ
About Rigaku Analytical Devices (RAD)
RAD was formed as the global handheld and portable spectroscopic analyzer business unit of Rigaku Corporation in 2011. RAD's portfolio of handheld and portable spectroscopic analyzers is used for a variety of applications, empowering our customers to achieve rapid lab-quality results any time, any place.
More from Computer Hardware & Peripherals