Rider Scrubber has 66 in. turning radius.
Press Release Summary: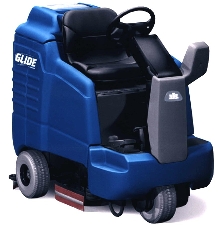 Saber Glide has compact and maneuverable design that can be driven through standard 36 in. doorway without removing any parts. It fits in standard elevator to permit transportation from floor to floor. Scrubber includes ergonomically designed operator compartment, intuitive controls, and simple brush and pad change system.
---
Original Press Release:
SABER GLIDE INCREASES PRODUCTIVITY, EASE OF USE AND RELIABILITY

ENGLEWOOD, CO. Windsor Industries' new 28 inch rider scrubber, the Saber Glide, is the first small scrubber designed, manufactured, and marketed to address the constraints that face today's customer. It meets or exceeds customer requirements for
productivity, ease of use, and reliability with unique features that increase its value to the customer and set it apart from other manufacturers.

The Saber Glide has a compact and maneuverable design that adds versatility the rider scrubber. It can be driven through a standard 36 inch doorway without removing any parts to allow easy maneuvenrng through facilities from job to job. Its tight 66 inch turning radius allows tight turning for superior cleaning in tight, congested areas. And by fitting in a standard elevator to permit transportation from floor to floor it increases job utilization.

An ergonomically designed operator compartment and controls provide a commanding view of the work area, extra comfort, and safety that increases operator productivity.

Other features that help to increase productivity include:
* Simple intuitive controls to reduce operator training
* Easy to use and efficient solution fill-up and recovery tank draining system
* Simple brush and pad change system to reduce operator training

Related