Ride-On Shot Blaster has integral dust collection system.
Press Release Summary: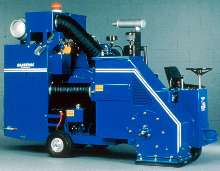 Powered by gas or liquid propane, Blastrac® GPX 16-65 strips, cleans, and profiles concrete or steel surfaces. Dust collection system uses compressed air pulse to clean 6 dust cartridges and does not draw power from product's 65 hp engine. This directs additional horsepower to blast wheel for increased shot flow. With 16 in. blast cleaning path and travel speed of up to 200 fpm, product cleans up to 3,000 ft² of concrete per hour.
---
Original Press Release:
Blastrac GPX 16-65 Ride-On Shot Blaster Receives Updated Dust Collection System
Gas or liquid propane powered system cleans and prepares concrete or steel surfaces Fresno, TX - (April 30, 2004) - The Blastrac® GPX 16-65 ride-on shot blaster now features an improved onboard dust collection system. Simpler in design, with fewer moving parts, this new system uses a compressed air pulse to clean the unit's six dust cartridges. This system cleans more effectively, resulting in longer cartridge life and better filtering capabilities. Engine capacity originally used by the dust collection system is no longer needed, providing additional horsepower to the blast wheel for increased shot flow and higher productivity. The GPX 16-65 is powered by a 65 h.p. gasoline or liquid propane engine. With a 16" blast cleaning path and a travel speed of up to 200 ft./min., the GPX 16-65 can clean up to 3,000 sq. ft. of concrete per hour. It strips, cleans and profiles concrete or steel surfaces and is ideal for surface preparation work related to bridge deck repair, highway maintenance, parking deck maintenance and other large jobs. A blast pattern adapter reduces blast pattern width for jobs such as line stripe removal. For more information on the Blastrac® brand, call 800-256-3440 or visit www.surfacepreparation.com. The Blastrac brand, an International Surface Preparation Technology, offers a full line of dust controlling portable surface preparation equipment including shot blasting systems, scarifiers, grinding equipment, saws and dust collection systems. Blastrac also offers equipment for cleaning vertical steel surfaces such as storage tanks and bridges, as well as equipment designed for light demolition work such as floor scraping and removal of tile, carpet and other flooring materials. The Blastrac line further includes a full complement of consumables, including media, replacement parts, standard and premium diamond blades, cup wheels and abrasive disks. For more information on the Blastrac brand, visit the web site at www.surfacepreparation.com or send an e-mail to info@surfacepreparation.com. International Surface Preparation Corporation is a global manufacturer and distributor of surface preparation and finishing equipment, supplies and services. Through its industry-leading companies, International Surface Preparation Corporation offers trusted and established brands in virtually every strategic area of surface preparation, allowing the company to provide an unparalleled and superior product line. The company designs and manufactures a wide range of standard and custom centrifugal wheelblast, airblast, descaling, peening and deburring systems. The company also offers fully assembled airblast rooms, dust collection systems, concrete cutting and grinding equipment, as well as a complete assortment of abrasives, diamond blades and replacement parts. International Surface Preparation Corporation s own worldwide distribution network is committed to offering the broadest array of technologies, products, services and technical know-how, while working closely with customers to develop the best solutions for their specific requirements. The company's strategically located manufacturing and distribution facilities allow International Surface Preparation Corporation to provide unparalleled customer service and support worldwide. In addition, the company operates three full service foundries - the Castalloy Foundry located in Waukesha, WI and additional foundries in Walterboro, SC, and Caronno, Italy. Each produces superior castings for the surface preparation industry as well as other industries. Blastrac is a registered trademark owned by International Surface Preparation Corporation. Contact information: Blastrac, telephone 800-256-3440, e-mail info@surfacepreparation.com.
Related