Richardson RFPD Introduces Highly Efficient, 55W GaN RF Power Transistor from TriQuint Semiconductor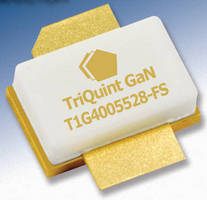 T1G4005528-FS Operates from DC-3.5 GHz and Offers Greater than 50% Efficiency at 3.5 GHz

LaFox, Illinois: Richardson RFPD, Inc. today announces immediate availability and full design support capabilities for a new 28-volt, 55 Watt, GaN on SiC HEMT, RF power transistor from TriQuint Semiconductor. The T1G4005528-FS provides 55W RF output power (P3dB), with greater than 15 dB of linear gain, and better than 50% drain efficiency at 3.5 GHz. The T1G4005528-FS is ideal for narrowband and wideband applications, offering exceptional performance from DC to 3.5 GHz. The T1G4005528-FS is available in an industry standard, flangeless ceramic package. Power, gain, and efficiency can be optimized for a particular application with simple matching networks external to the device. Applications for the T1G4005528-FS include military and civilian radar, commercial/military radio communications systems, test instrumentation, avionics, plus high-performance wideband or narrowband RF power amplifiers.

Key features of the T1G4005528-FS operating @ 3.5 GHz include:

Linear Gain: > 15 dB

Output Power (P3dB): 55W

Drain Efficiency: >50%

Thermal Resistance, junction to case, ÈJC = 2.1 °C/W

Typical Bias: 28V drain supply, 200mA drain quiescent current, -3.5V gate supply

Package Size: 9.7mm x 5.8mm x 3.5mm (industry standard; flangeless)

RoHS Compliant

The device is constructed with TriQuint's proven 0.25µm GaN on SiC HEMT production process, which features advanced field plate techniques to optimize both power and efficiency at high drain bias operating conditions. This optimization can lower overall system cost in terms of fewer amplifiers required in the line-up (for a given output power level) and lower thermal management costs.

The T1G4005528-FS and its datasheet are available now. To find more information, or to purchase this product today on the Richardson RFPD website, please visit the T1G4005528-FS product webpage. To enable a more rapid design process, and to improve chance of success at first prototype, please consider the evaluation board (T1G4005528FEVB1) that has been designed for use with the transistor. The RF power device and the evaluation board are also available by calling 1-800-737-6937 (within North America); or please find your local sales engineer (worldwide) at Local Sales Support. To learn more about additional products from TriQuint Semiconductor, please visit the storefront webpage.

About Richardson RFPD, Inc.:
Richardson RFPD, Inc., an Arrow Electronics Company, is a global leader in the RF and wireless communications, power conversion and renewable energy markets. Relationships with the industry's top component suppliers enable Richardson RFPD to meet the total engineering needs of each customer. Whether it's designing components or engineering complete solutions, Richardson RFPD's worldwide design centers and technical sales team provide support for all aspects of customers' go-to-market strategy, from prototype to production. More information is available online at richardsonrfpd.com.

More from Controls & Controllers