Richardson RFPD Delivers Outstanding High-Linearity Driver Amplifiers for Wireless Infrastructure, Aerospace & Defense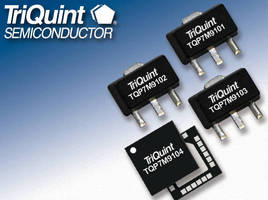 TriQuint Semiconductor Introduces High-Efficiency TQP7M9101 (1/4W), TQP7M9102 (1/2W), TQP7M9103 (1W) and TQP7M9104 (2W) Driver Amplifiers

LaFox, Illinois: Richardson RFPD, Inc. announces immediate availability of four new high-linearity driver amplifiers from TriQuint Semiconductor. These InGaP / GaAs HBT semiconductor devices deliver high performance across a broad range of frequencies. The TQP7M9101, TQP7M9102, TQP7M9103 and TQP7M9104 are targeted for use in 3G / 4G wireless infrastructure, general purpose wireless, and aerospace & defense systems where high linearity, medium power, and high efficiency are required. This rare combination of high performance makes these devices excellent driver amplifier candidates for both current and next-generation RF transceiver applications.



Key Specifications (@ 2140 MHz)

                             TQP7M9101   TQP7M9102   TQP7M9103   TQP7M9104

P1dB                         25dBm        27.5dBm    29.1dBm     32.8dBm

Gain                         17.5dB       17.4dB     16.6dB      15.8dB

OIP3                         39.5dBm      43.8dBm    45dBm       49.5dBm

Supply Voltage (Vcc)         +5           +5         +5           +5

Current, Icc (@ 5V)          87mA         137mA      235mA       435mA

Noise Figure                 3.9dB        3.9dB      4.4dB       4.5dB

Frequency Range           0.4 - 4 GHz  0.4 - 4 GHz  0.4 - 4 GHz  0.7 - 4 GHz

Package Type                SOT-89       SOT-89      SOT-89       4x4mm

These innovative RF solutions incorporate on-chip features that differentiate them from other similar products in the market. Each of these amplifiers integrates on-chip DC over-voltage and RF overdrive protection. This feature protects the amplifiers from electrical DC voltage surges and high RF input power levels that may occur in a system. In addition, specially designed on-chip ESD protection allows the amplifiers to have very robust Class 2 (TQP7M9103, TQP7M9102 and TQP7M9103) and Class 1C (TQP7M9104) HBM ESD ratings.

The TQP7M9101, TQP7M9102, TQP7M9103 and TQP7M9104 are available now. To find more information, obtain datasheets, or purchase these products today on the Richardson RFPD website, please visit the TriQuint Semiconductor High Linearity Amplifiers page at www.rell.com/newdrivers. To facilitate a more efficient design process, please also consider using the evaluation boards that have been designed specifically for these amplifiers. Evaluation boards are available for the 869-960 MHz range (TQP7M9101-PCB90 and TQP7M9102-PCB90), the 920-960 MHz range (TQP7M9103-PCB90 and TQP7M9104-PCB90), and the 2.11-2.17 GHz range (TQP7M9101-PCB21, TQP7M9102-PCB21, TQP7M9103-PCB21 and TQP7M9104-PCB21). The driver amplifiers and evaluation boards can also be ordered by calling 1-800-737-6937 (within the U.S. and Canada); or please find your local sales engineer (worldwide) at Local Sales Support. To obtain information on other TriQuint products, please visit the TriQuint Semiconductor Storefront page.

About Richardson RFPD, Inc.:
Richardson RFPD, Inc., an Arrow Electronics Company, is a global leader in the RF and wireless communications, power conversion and renewable energy markets. Relationships with the industry's top component suppliers enable Richardson RFPD to meet the total engineering needs of each customer. Whether it's designing components or engineering complete solutions, Richardson RFPD's worldwide design centers and technical sales team provide support for all aspects of customers' go-to-market strategy, from prototype to production. More information is available online at www.richardsonrfpd.com.