Richardson RFPD Announces Design-In Support and Immediate Availability of Breakthrough LDMOS RF Power Transistors for UHF Broadcast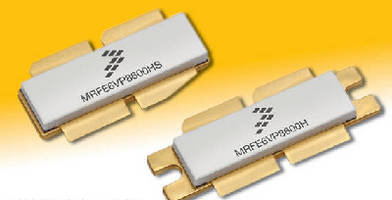 Freescale(TM) Semiconductor's New MRFE6VP8600H and MRFE6VP8600HS

LaFox, Illinois: Richardson RFPD, Inc. today announces the availability of two breakthrough 50V LDMOS RF power transistors which set new standards for ruggedness in the UHF broadcast industry. The MRFE6VP8600H and MRFE6VP8600HS are push-pull power transistors that provide enhanced efficiency and operate over the 470 - 860 MHz frequency band. These devices are capable of transmitting highly-linear, 125W average DVB-T output power, with a peak envelope power output capability of over 600W. Moreover, these devices are fully capable of withstanding a nearly 100% mismatched load, specified as greater than 65:1 VSWR at all phase angles, with no damage to the transistor. Ultimately, the MRFE6VP8600H and MRFE6VP8600HS provide a unique combination of linear power amplification, high efficiency and enhanced ruggedness never before seen in the UHF broadcast industry.

Key features:

o Capable of 18.8 - 20.0 dB gain

o P1dB > 600 watts

o Average output power rated at 125 watts (DVB-T 8k OFDM)

o Rugged devices withstand a 65:1 VSWR load mismatch with no damage over all phase angles

o Integrated enhanced ESD protection

o High power-added-efficiency, typically 30 percent (up to 45 percent in Doherty configuration)

o Extended operating range characterized from 20V to 50V for use with drain modulation schemes (ex. envelope tracking)

o Extended negative gate-source voltage range (-6V to +10V)

o Two air cavity ceramic package options: choose bolt-down or solder-attach

o RoHS compliant

Design advantages:

o Reduction in the total number of transistors and combiner stages needed for a given output power level allows for simplified overall UHF transmitter design and improved reliability.

o Broadband internal input impedance matching means these devices are easier to implement.

o Extended negative gate-source voltage range provides improved Class C operation (such as when used in the peaking stage of a Doherty amplifier).

o High-efficiency means less current is consumed, and as a result less power is wasted as heat. A UHF transmitter designed with these devices can use 15% less energy than previous generation transistors.

o Enhanced ruggedness makes it possible to use more simplified transmitter protection circuitry.

The MRFE6VP8600H and MRFE6VP8600HS are in stock and ready for shipment. Full design support and product documentation is readily available. To find more information, or to purchase these products today on the Richardson RFPD website, please visit our Microsite for FreescaleTM Semiconductor's Rugged 50V LDMOS Transistors at www.richardsonrfpd.com/ruggedldmos. The microsite contains a broad array of technical support material including white papers, application notes, reference designs, and links to ADS/AWR models. The new devices are also available by calling 1-800-737-6937 (within North America); or please find your local sales engineer (worldwide) at Local Sales Support.

In addition, Richardson RFPD and Freescale Semiconductor will assist all interested RF engineers by providing specific design recommendations for these rugged LDMOS transistors during an upcoming free webinar. This webinar will be hosted by Microwave Journal on Thursday, September 29, 2011, beginning at 8am PT (11am ET / 3pm UTC). Registration is available through Microwave Journal's Events site.

About Richardson RFPD, Inc.:

Richardson RFPD, Inc., an Arrow Electronics Company, is a global leader in the RF and wireless communications, power conversion and renewable energy markets. Relationships with the industry's top component suppliers enable Richardson RFPD to meet the total engineering needs of each customer. Whether it's designing components or engineering complete solutions, Richardson RFPD's worldwide design centers and technical sales team provide support for all aspects of customers' go-to-market strategy, from prototype to production. More information is available online at www.richardsonrfpd.com.

More from Electronic Components & Devices