Rich-E-Board™ Insulation is resistant to mold and fire.
Press Release Summary: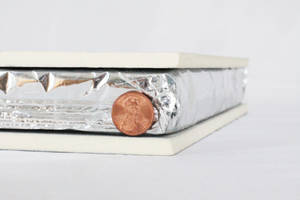 Designed with Vacuum Insulated Panel, two polymeric foam cover boards and adhesive ribbons, Rich-E-Board™ Insulation reduces delivery and handling cost. Having 1.5 in. thickness, product is used on roof decks types and low-slope roof systems. Rich-E-Board™ Insulation achieves 50 R-value rating.
---
Original Press Release:
Advanced Insulation – Just an Inch and a Half Thick – Delivers R-Value of 50
Rich-E-Board™ earns patent, offers cost-saving alternative to massive market
It's exceptionally thin and easy to install. It delivers an R-value of 50 to commercial, industrial and government buildings. Now, Rich-E-Board™, the insulated composite panel (ICP) system created by R-50 Systems, has earned a patent for its groundbreaking design.
The new, ultra-thin insulation offers a certified alternative to a huge commercial roofing market —billions of square feet in construction every year — challenged with meeting stringent standards for energy efficiency.
While conventional insulation requires a thickness of 15 inches to reach an R-value of 50, Rich-E-Board achieves the same result at just 1.5 inches thick. Rich-E-Board can be installed on most roof deck types and can support all conventional low-slope roof systems.
Rich-E-Board's patent was awarded for a design comprising three main components: R-50's proprietary Vacuum Insulated Panel (VIP), two polymeric foam cover boards that sandwich the panel, and the adhesive ribbons that bind the boards and panel together.
This innovative design delivers significant advantages to architects, contractors, and building owners:
Lower energy bills Achieving an R-value of 50 can cut a building's heating and cooling costs by 8 to 10 percent, according to the GSA.
Simpler retrofits Rich-E-Board enables retrofitted structures to achieve required R-values in less time, with fewer materials, and without costly and destructive building modifications.
Reduced construction costs Rich-E-Board is cut-to-spec and lightweight — it lowers the cost of delivery and handling and reduces labor costs by more than half.
Design flexibility With an incredibly slim profile — especially compared with multi-layer insulation — Rich-E-Board saves space, expanding the design options for architects.
Rich-E-Board is also mold and fire resistant, notes Joanne Collins, President and CEO of R-50 Systems.
"Our team is focused on creating a game-changing alternative for architects, specifiers, and contractors," Collins says. "Rich-E-Board fills a significant void in the marketplace by providing an insulation system capable of meeting today's tougher energy standards."
Collins notes that, in addition to the $5 billion annual market for commercial roofing, Rich-E-Board can be used in walls and other building applications. Rich-E-Board is 99% recyclable and made entirely in the U.S.A.
For more information, visit www.r-50.com.
R-50 Systems, LLC, based in Kennett Square, Pa., develops innovative high R-value insulation products for the federal government and commercial/industrial marketplace. R-50 Systems creates American-made products that focus on improving energy efficiency, lowering construction costs and increasing sustainability. R-50 Systems is a Woman-Owned Small Business. For information, visit www.r-50.com.
More from Sensors, Monitors & Transducers