RGB LEDs emit high-intensity light.
Press Release Summary: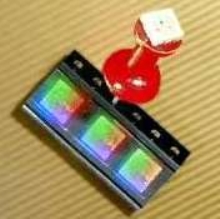 SML5050RBG1K-TR low profile, surface mount full-spectrum Red, Green, and Blue LEDs feature water clear lens that protects diode array from electrical and mechanical shock, vibration, frequent switching, and environmental extremes. At 5.5 x 5.5 mm and with variable wavelengths, red (620-630 nm), green (520-535 nm), and blue (460-475 nm) diodes offer viewing angle of 120°. Luminous intensities range from 150-500 mcd at 20 mA current and LEDs have average life span of 100,000+ hr.
---
Original Press Release:

Full-Spectrum Surface Mount RGB LED Provides High Intensity Colors


TORRANCE, CA - July 5, 2005 - LEDtronics introduces the SML5050RBG1K-TR - a low profile, surface mount full-spectrum Red, Green and Blue LED (RGB LED). These discrete LEDs provide excellent performance and terrific visibility in a compact size of only 5.5mm x 5.5mm. The red, green and blue diodes emit high-intensity light in a viewing angle of 120°. The red diode's wavelength varies between a minimum of 620nm and a maximum 630nm. The wavelength of the green diode is between a minimum of 520nm and a maximum of 535nm. Blue operates between 460nm and 475nm. Depending on the color, luminous intensities range from 150 mcd to 500 mcd at 20 mA current. A water clear lens protects the diode array.

Use SML5050RGB LEDs with LEDtronics OptiLED Light Pipes to simplify the spatial relationship between the PCB and remote indicator illumination points. Light pipes channel all of the LED-generated light to the exact location where the light is required. Compatibility with infrared and vapor phase reflow soldering processes and pick-and-place automated equipment make the Series SML5050RGB LEDs effective tools in cutting costs in PCB assembly while maintaining product integrity. Series SML5050 LEDs broaden the illumination options available for back lighting computer panels, handheld instruments like PDAs, data- and tele-communication status indicators, etc. Solid-state design renders LEDs impervious to electrical and mechanical shock, vibration, frequent switching and environmental extremes. With an average life span of 100,000-plus hours (11 years), LEDs operate reliably year after year and are virtually maintenance free.

Founded in 1983, LEDtronics® leads where others only follow when it comes to designing, manufacturing and packaging state-of-the-art LEDs to meet the world's constantly changing lighting needs. Our inventive product line encompasses an array of direct incandescent lamp replacement Based LEDs, low-cost snap-in and relampable Panel Mount LEDs, high intensity sunlight-visible Discrete LEDs, PCB LEDs circuit board status indicators, surface mount diodes SMT LEDs, full-spectrum rainbow RGB LEDs, Ultraviolet (UV) and Infra-Red (IR) LEDs.

SML5050RGB1K-TR SMT LEDs are priced at $2.15 each. Quantity discounts are available. Contact LEDtronics toll free at 1-800-579-4875, telephone 310-534-1505, fax at 310-534-1424 or mail at LEDtronics Inc., 23105 Kashiwa Court, Torrance, CA 90505. Visit our website at ledtronics.com.

Data sheet URL address is:

http://ledtronics.com/ds/sm13rgb/default.asp#5x5cm

For Technical Information Contact:

Jordon Papanier at 310-534-1505

E-Mail: jpapanier@ledtronics.com


Related