RGB Controllers facilitate LED lighting color adjustment.
Press Release Summary: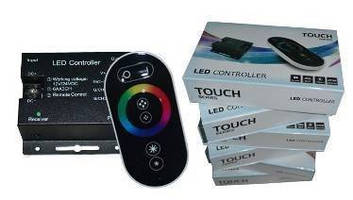 RGB controllers enable users to change Red Green Blue (RGB) LED color scheme. Options include LT-09S-RF Controller & Dimmer with handheld RF Touch Color Remote as well as DMX controllers featuring up to 1,024 DMX output channels and capacity with which to store 500 scenes across 10 zones and generate >16,000,000 possibilities with computer software and mobile apps. These products can control dynamic lighting inside residences, commercial/retail spaces, offices, and landmarks.
---
Original Press Release:
NSL RGB Controllers
NSL offers a large variety of RGB controllers

Tonawanda, New York; National Speciality Lighting to offer wide range of RGB controllers.  RGB Stands for "Red Green Blue." It refers to the three hues of light that can mix together to form any color. When the highest intensity of each color is mixed together, white light is created. When you use RGB Color Changing LED Lights, you no longer have to decide which color to use. You can either allow the lights to cycle through a continuous color changing pattern, or stop the controller at any color you like. The possibilities are endless.

One can easily change their color scheme with the seasons, or simply at a whim with RGB Color changing controllers. Our simple and easy to use LT-09S-RF Controller & Dimmer with handheld RF Touch Color Remote or one of our more sophisticated DMX controllers (with 1024 DMX output channels and the ability to store 500 scenes across 10 zones generating literally more than 16,000,000 possibilities with computer software and mobile apps) can control dynamic lighting inside a house, bar, office block, shopping center, hotel or even a landmark.

For more specific information please visit; http://nslusa.com/Product.php?product_id=15952 or download our product brochure; 
http://magiclite.com/Files/PDF_Brochures/201604120910570.NSL_LED_CONTROLLERS_2016.pdf

About National Specialty Lighting
National Specialty Lighting brings you 28 years of lighting innovation. A strong leader in architectural and decorative lighting, our product range includes the latest in LED technology, fiber optics and traditional lighting products. Our fully stocked Burlington warehouse and many stocking electrical distribution channels across Canada assure prompt delivery to the job site. A dedicated, experienced inside sales, support staff, and highly professional national sales force are here to serve you. Please visit us at http://www.nslusa.comOr view our online catalogue at http://nslusa.com/ckfinder/userfiles/files/NSL_Catalog.pdf

For More Information please contact:
Mr. Jeff Harris
Senior Vice President Business Development
2299 Kenmore Ave
Tonawanda, NY 14207 T 800.527.2923 F 800.527.4358
jeff@nslusa.com
More from Electronic Components & Devices