RFID Tags are designed for use on metal.
Press Release Summary: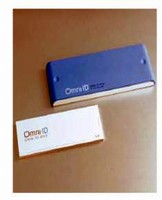 Eliminating interference from metals/liquids, Series of 3 passive UHF (Gen 2) RFID tags are used for supply chain management and high-value asset tracking, and come with standard label covering finish/ruggedized rigid case finish. Max is effective for long-distance applications and has read range greater than 40 ft. Featuring read range greater than 16.5 ft, Flex is functional for medium-distance assets, while Prox suits short-distance IT assets and has read range greater than 8 ft.
---
Original Press Release:

GAO RFID Expands On-Metal Tag Portfolio



Toronto, Canada - GAO RFID has added a new series of three compact and cost-effective passive RFID tags for use on metal with optimum performance. The tags design eliminates most interference from metals and liquids and allows the tags to function efficiently in harsh environments. Their breakthrough technology promises 99.99% accuracy. These UHF Gen 2 transponders are useful for supply chain management and high-value asset tracking. These tags are supplied with a standard label covering finish or a ruggedized rigid case finish. The choice of the three tags depend on purpose and distance of usage: "The Max" is effective for long-distance multiple applications, "The Flex" is functional for medium-distance asset, and "The Prox" is suitable for short-distance IT assets.

The Max is a world class, long-range passive UHF RFID tag with a read range of greater than 40 feet, and offers ultimate tracking for applications like automotive conveyances, pallets, large high-value assets and cargoes (railroad and sea containers), and vehicles.

The Flex has an outstanding performance-to-size ratio, and is a medium-range passive UHF RFID tag with a read range greater than 16.5 feet providing enhanced visibility in a manufacturing or retail environment. The Flex performs precise asset registration and has security benefits; it is efficient for laptop tracking, shelf-edge retail and locating in a warehouse, automotive parts and components tracking, and tool tracking.

The Prox is small, well performing, short-range passive UHF RFID tag with a managed read range greater than 8 feet. It delivers incomparable accuracy for tracking of smaller high-value IT assets such as electronic devices, communications/network cards, servers, and asset rentals.

GAO RFID Inc. is a member of GAO Group, which also includes GAO RFID Inc. - www.GAORFID.com
GAO Tek Inc. - www.GAOTek.com
GAO Research Inc. - www.GAOResearch.com WowGao Inc. - www.WowGao.com GAO RFID Asset Tracking Inc. - www.GAORFIDAssetTracking.com
GAO Embedded Inc. - www.GAOEmbedded.com GAO Instruments Inc. - www.GAOInstruments.com GAO Comm Inc.- GAOComm.com> GAO Fiber Optics Inc.- www.GAOFiberOptics.com

About GAO RFID Inc.
GAO RFID Inc. is a leading provider of Radio Frequency Identification (RFID) hardware and solutions to end users worldwide. GAO RFID combines best of breed with low cost RFID readers, RFID tags and enabling-RFID software. We have a wide variety of RFID readers, tags and antennas in all the RFID technologies, Low Frequency (LF), High Frequency (HF), Ultra High Frequency (UHF, Gen 2) as well as Active and Semi-Passive. GAO RFID's products and services are easily customized for use in Asset Tracking, Health care, Supply Chain & Logistics, Event Management, Access Control, Livestock Tracking, Inventory Control & Management, Field Service, Maintenance and Document Authentication.

For more information please visit www.GAORFID.com

More from Safety & Security Equipment