RFID Tag suits shipments in harsh supply chain environments.
Press Release Summary: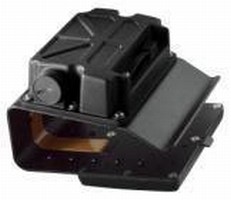 Based on EchoPoint(TM) technology and ISO 18000-7 standards, Savi Tag ST-656 operates at 433.92 MHz, offers 128 KB user memory, and features read ranges to 300 ft. ISO container door tag comes in U-shaped form factor that clamps tightly onto left door of container. This protects RFID electronics on inside of container, while low-profile plate on outside contains antennae that communicates with fixed or mobile reader networks. Flat external plate also contains beeper for audio alerts.
---
Original Press Release:

Savi Technology Releases Newly Designed Active RFID Tag for Shipments in Harsh Supply Chain Environments



New Low Profile U-Shaped Form Factor Protects RFID Components Inside the Container

WASHINGTON, March 7 / -- Savi Technology, a leading provider of RFID supply chain solutions, today announced the release of a new low-profile version of its flagship active, data rich RFID tag for military and commercial container shipments in particularly harsh supply chain operating environments. Called the Savi Tag ST-656, the ISO container door tag comes in a new U-shaped form factor that clamps tightly onto the left door of the container, enabling the RFID electronics to be protected on the inside of the container while a low-profile plate on the outside contains an antennae that communicates with fixed or mobile reader networks. The flat external plate also contains a beeper for audio alerts of the tag's location and status.

The ST-656 was developed in close collaboration with a number of Savi customers, including multiple organizations in the U.S. Department of Defense, such as the Office of the Secretary of Defense, the Defense Logistics Agency and the Product Manager for Joint Automatic Identification Technologies. The combination of a low external profile and the protected RFID components reduces the risk of damage to tags in harsh operating environments while retaining the same performance and features of the Savi Tag ST-654, which has become the standard active, data-rich tag providing real-time visibility of military supplies for the DoD and other allied defense organizations.

"The ST-656 augments our RFID tag solutions because the mounting procedure provides an extra measure of reliability that's required when shipments enter the most harsh military environments," said David Stephens, Savi's Senior Vice President, Public Sector. "We're pleased to have provided a quick-response solution to new military requirements by working closely with our partners in the DoD."

Additional benefits of the ST-656 include:

-- The battery and RFID components, which include on-board processor, memory and radio transmit and receive capability. These RFID components are protected on the inside of the container, enabling users to recover critical manifest data even if the outside is damaged.

-- The mounting procedure further secures the tag on the container.

-- New RFID antennae technology that's embedded in a ruggedized, low-profile flat plate that's on the outside of the container. The external component also contains a beeper for audio alerts.

Further, the ST-656 has the same functionality as the ST-654, which is widely used throughout defense supply chains and affixes to the outside of containers, large mobile equipment and air pallets. These features include 128Kbytes of user memory, read ranges of up to 300 feet, beepers for audio location, and small and rugged designs that can withstand extremely low and high temperatures.

Savi's active RFID products have been proven to operate successfully in the most remote, harshest climatic and operating conditions found in defense supply chains. Savi Technology provides a family of leading-edge active RFID products, including tags, readers, rapidly deployable mobile systems, on-vehicle movement tracking systems, and related software to track, manage and secure supply chain assets and their contents.

The active tags are based on ISO 18000-7 standards operating at 433.92 MHz, which has proven to be the most effective RFID frequency for bending around metal objects such as large ISO containers that are tracked and stored.

Savi's family of active RFID tags are based on Savi's EchoPoint(TM) technology, an innovative technology that leverages Ultra High Frequency (433.92 MHz) and Low Frequency (123 KHz) for both long-range and more precise spot-level location. This technology also enables data to be written to the tags while it's in-transit, as well as to capture important data about the shipment from mobile readers.

About Savi Technology

With over 16 years experience, Savi Technology is a leading provider of active RFID solutions for the management of supply chain assets, shipments and consignments. Savi's networked active RFID solutions track shipments for government and commercial organizations around the world. Savi Technology's integrated RFID hardware and software solutions drive business value, enabling customers to reduce their supply chain assets, inventory and operational costs. Founded in 1989, Savi Technology is privately held, with headquarters in Sunnyvale, Calif., and offices in Washington D.C., London, Singapore, Johannesburg, and Melbourne. For more information, visit www.savi.com.

CONTACT: Mark Nelson of Savi Technology, +1-408-743-8866, or mnelson@savi.com

More from Agricultural & Farming Products