RFID Tag suits laundry applications.
Press Release Summary: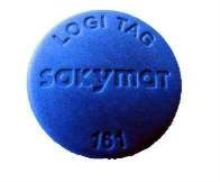 Measuring 0.63 in. in diameter with thickness of 0.12 in., Logi TAG 161 Sedna is based on 13.56 MHz technology and open standards ISO15693 and ISO18000-3. It contains 64-bit identification code and 56-bit one time programmable memory chip. Anti-collision feature enables one reader to simultaneously read many tags, without line of sight. Tag meets mechanical, temperature, and chemical resistance required for harsh environments.
---
Original Press Release:
Sokymat Launches its New Generation RFID Tag for Laundry Applications - Logi TAG 161 Sedna: the Smallest 13.56MHz Laundry Tag ISO15693 / ISO18000-3

Orlando (Clean Show), June 23, 2005 - Sokymat SA, the world's leading supplier of RFID transponders, launches the new generation of its Logi TAG family with the introduction of the Logi TAG 161 Sedna. The Logi TAG 161 Sedna is especially designed to meet the high mechanical, temperature and chemical resistance required for harsh environments common to laundry applications.

Measuring only 16mm in diameter (0.63") with a thickness of less than 3mm (0.12"), the Sokymat Logi TAG 161 Sedna is the smallest RFID laundry tag available on the market, based on high frequency 13.56MHz technology and the open standards ISO15693 and ISO18000-3. The new Logi TAG 161 contains a unique 64 bit identification code and a 56 bit OTP (one time programmable) memory chip, and features the highest read range / tag size ratio available. Thanks to its anti-collision feature, it is possible for one reader to simultaneously read many tags, very quickly and without line of sight. This is one among many of the major advantages compared to barcode-based solutions. With its light grey color and its very small size, the Logi TAG 161 is the ideal solution for the identification of all kinds of textiles.

Sokymat developed the Logi TAG 161 laundry tag as the evolution of the Logi TAG 160, widely used by the laundry industry and other market segments since 2002 and renown for its superior performance. A new encapsulation technology which uses a modified and high performance thermoplastic was the focus of the development effort for new Logi TAG 161. In addition, this new material complies with food compatibility grade and therefore makes it different to other types of laundry tags made of PPS or epoxy.

Philippe Held, Sokymat Industry & Logistics Product Manager, comments, "The objective of the new generation Logi TAG 161 Sedna was to maintain the proven performance of the Logi TAG 160 in light of laundry applications and achieve it at a more cost effective manufacturing process. Sokymat was able to meet this goal."

The Logi TAG 161 allows Sokymat, its partners and integrators to offer the laundry market the highest performing laundry tag with the best ratio price / performance.

About Sokymat

Sokymat, the world's leading supplier of RFID transponders, is present in all major market segments that express a strong interest in the benefits of RFID technology, namely access control and security, industrial automation and supply chain management as well as animal identification. Thanks to its 15 years of experience in transponder manufacturing technology and its know-how in packaging technology, Sokymat can design and manufacture virtually any type of custom-made transponder suited to the specific operating environment and packaging material requested by the customer ­including metal.

Alongside with its expertise in 125/134.2 kHz and UHF RFID technology, Sokymat boasts the most complete know-how in 13.56 MHz technology and serves fast growing industry segments such as the emerging market for government-issued electronic passports and travel documents.

The group employs more than 300 people worldwide, has both research and development centers and manufacturing plants in Switzerland, Sweden, Germany and Malaysia.

For more information, please contact:

Mary-Claude Vienet

SOKYMAT

Tel. +41 (0) 21 908 07 11

Fax. +41 (0) 21 908 01 01

Email: MC.Vienet@sokymat.com
More from Test & Measurement